Home
»
Articles, Guides, and Tips
Posted by
Amanda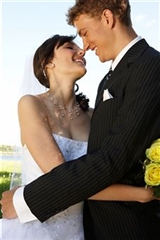 Who says a wedding is just girl's play? Now, it is true that girls do dream of this special day from the time that they are very young, but including your husband to be in the planning will make him feel special. Moreover, he might have some great ideas.

A wedding can be quite stressful if there are no plans. Every detail must be looked at and carefully planned as well as executed. This can be a stressful time for both bride and groom, but once the day is here the hard work will seem worth it.

An itinerary is the best way to get your wedding from proposal to walking down the aisle and away on the honeymoon without a hitch. There are many things to consider before tying the knot and each must be addressed. Having that list will come in handy so that you do not forget a single detail.

A wedding is not complete without the date. Sure, the bride and groom are important, but without a day to say the vows, it is just a day out and nothing else. Once a date is set, the other details can fall into place. The flowers cannot be chosen until you know whether you want a spring or fall wedding and the dress cannot be chosen either without a date.

The invitations also have to be sent once you decide on a place or time. A theme for the wedding is a great start to planning your special day. Include your fiancé on this because it is his day too. Even if you both want a different theme, you can combine them and create something very special.

Many aspects of the wedding should be determined by the bride as well as the groom. You both must pick either an indoor or outdoor wedding, colors of the wedding and also the theme. Your theme can be one of the four seasons or a particular city like one that is romantic or fun like Las Vegas.

It is your wedding and it is also your fiancés. Your wedding might just be that first compromise in your marriage. It would be a devastating to have a wedding that you both did not agree on.

The wedding of your dreams is the spotlight, but that is not the only event that you have to plan for. You have to decide what you would like to include in your special day. That could be the reception, bridal shower, bachelorette party and the bachelor party. It is your day so include the events that you want and not what others want you to have.

Planning a wedding can be stressful and sometimes not fun. For this reason, your husband to be may wish to leave the planning to you and show up in the end wearing their tux and ready to say I Do. That is ok as long as you are ok with that. Get your best friends, bridesmaids and your mom as well as his mom involved.
More Articles by Amanda
«-- Return to Article Index