Home
»
Articles, Guides, and Tips
Posted by
Amanda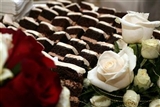 A wedding reception is a vital part of the wedding process. This is the part where the bride and groom get to start celebrating their lives together and thank all the parties involved in the wedding. Plus the guests get to congratulate and toast the happy couple.

The reception is generally a party with friends and family. There is food, wine, and music. The bride and groom enter to start the party and then toasts are made followed by drinking and dancing. The food is also a great part of the wedding since the bride and groom need to eat before embarking on their honeymoon.

Half an hour to several hours can be how long a wedding reception lasts. You can even have the party in the evening and dance until dawn. The reception can be held at a dance hall, outdoors, someone's home or a local club or bar. You must have a place that can accommodate your party and if you use a public place, you may have to pay overtime hours if the party lasts longer than expected. This can get pricey.

Wedding receptions can be casual or formal. You can have them indoors or out. Outdoor parties can actually be brought indoors with forest decorations. You can even have a cake that has the shape of an oak tree for added effect.

Let them eat cake and they shall. At a wedding reception, wedding cakes are often the highlight. These are quite like the ones at the actual wedding, but they still can be beautiful and entertaining. The cake should match the wedding theme and have cake toppers just like the one used for the big day.

Imagine having a reception that works like a surprise party for your friends. An Haute Hoedown is great for outdoorsy types and no one will expect that. Plus the decorations are intimate and great for smaller parties.

If outdoors is what you crave, then a beachside wedding reception is for you. Nature would serve as the decorations. You could do receptions in picnic style, Kasbah, hip-hop or anything else that you desire.

Daytime wedding receptions use the natural light as a backdrop. Flowers can be seen and the nature is just beautiful. Even the morning hours can be used for springtime weddings when the sun rises early. A nighttime wedding can be just as elegant with candles or chandeliers for light.

At a reception, you have to consider where to have it and how you want it decorated. That includes centerpieces, seating charts, flowers, menus, chairs, tables, candleholders, and other decorations. If you are stuck and cannot come up with ideas then browse the internet or talk to your friends and family to get you back in the wedding saddle.

The internet is also a good place to find and print out a wedding reception checklist so tat you can ensure that everything is done. The event must be memorable and unforgettable. It will be. Just plan, plan, plan.

More Articles by Amanda
«-- Return to Article Index