Home
»
Articles, Guides, and Tips
Posted by
Amanda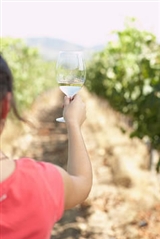 Long Island is home to miles of rolling lush green hills and grapevines, which create a picturesque scene for a romantic wedding. Not only will couples enjoy the beautiful scenery that a vineyard has to offer but on Long Island, many of these facilities provide all kinds of services to make the wedding day special. You can find a winery that will host the ceremony, the cocktail hour, and the reception if you desire. In addition, the good news is that wineries often have venues available for both indoor and outdoor weddings.

With all the wineries to choose from you may have a difficult time choosing the perfect one for your wedding. Some of the most popular wineries for an on site ceremony include Baiting Hollow Farm Vineyard in Baiting Hollow, Mattebella Vineyards in Southold, and Palmer Vineyards in Riverhead.

Baiting Hollow Farm Vineyard offers a magical location for a wedding during daylight hours, evening, or under the stars. You can your guests can enjoy a tour of the tasting house and enjoy the family wines. The vineyard is also home to a few horses that add flavor to the event. Indoor conference rooms or outdoor areas are available for weddings.

Mattebella Vineyards is more than just a place to enjoy great wines and food pairings; it is a beautiful location to say, "I do". Adding a wine tour of the vineyards to your special day while treating yourself to samples of the delectable wine will make your day memorable. The wines you can enjoy at this vineyard include Famiglia Red, Famiglia White, Old World Red, and Rose.

Palmer Vineyards is a great place for a wedding, a family reunion, or just a wonderful getaway. This vineyard enjoys that everyone has a great time throughout the year even making sure that the Easter Bunny stops by for a visit. Outdoor weddings are very popular with the vineyard or scenic country view as your background. One picturesque view that you will not want to miss is the sunset as it slowly envelopes North Fork.

If a winery with an outdoor area is what you are searching for then you will be glad to know that practically each one has an outdoor area. Some of the the most popular include Castello di Borghese Vineyard & Winery in Cutchogue, Duck Walk Vineyards in Watermill, and Raphael in Peconic.

Castello di Borghese Vineyard & Winery was voted the best winery in Long Island and if you enjoy fine wine, then you must take a visit and a tour of the wines at this vineyard. A tour of the vineyard and the wine making process will make that sample at the end of the tour even more special. A couple of their signature wines include Sauvignon Blanc and Pinot Noir. As you sip on wine, you may also enjoy a tour of the Terra Cotta Art Gallery offering art as well as freelance photography.

If your heart is set on a romantic wedding at Castello di Borghese Vineyard & Winery, you will be excited to learn that you can choose from an outdoor ceremony nearby the vineyard, under a tent, or inside the art gallery. The vineyard offers wedding packages to aid you will all the steps of your wedding to ensure that will be perfect for that special day and that Castello di Borghese Vineyard & Winery did their part in making it memorable.

Duck Walk Vineyards is another popular location for all kinds of events including outdoor weddings. A weekend getaway or a wedding can be pulled of here with all the special treatment you desire including sitting on the patio and sipping wine. At Duck Walk Vineyards, you can enjoy the vineyards, the patio, the wine tasting room, or more for your ceremony.

Raphael is home to some of the fine wines created on Long Island. There specialties include Sauvignon Blanc, La Fontana, and Bel Rossa which will be served at your wedding. Raphael offers an elegance atmosphere will crystal and silver linens that would be perfect for your wedding day. Other services offered to help make your day special include event directors, music, flowers, cuisine, and of course the delectable wines.

As you can see, Long Island is home to a large variety of wineries and vineyards, each one with their own heart that would ensure your wedding day is one that will be memorable for many years to come. Whether you wish a small intimate affair or a large event, the vineyards of Long Island could be the magical place where you begin your life together.

List of all Long Island Wineries with special accommodations to weddings.

For more information about wineries on Long Island see LongIslandWineries.com.
More Articles by Amanda
«-- Return to Article Index