Baiting Hollow Farm Vineyard
Baiting Hollow Farm Vineyard


Wine and horses beneath a crisp day or night sky are what you can enjoy at the Baiting Hollow Farm Vineyard, BHFV. Its picturesque view creates the perfect backdrop for weddings, outdoor gatherings, or just relaxing on a warm and sunny Sunday afternoon. Hand harvested grapes make the family owned Rubin vineyard and its wine unique and delicious.
On the vineyard, you and your age appropriate guests can take a stroll through the tasting house and taste some of the family made fine wine. During the season, the tasting house becomes home to Long Island's popular bands and in the off-season, there is a sound season to complete your wine tasting experience.
The Baiting Hollow has beauty, taste, and heart. The vineyard just recently added 3 horses, Prince, Mirage, and Angel to their other family of horses. All were rescued and now call the Baiting Hollow their home. Seven other horses call this lovely stretch of land home giving the vineyard life and beauty. BHFV also has two miniature ponies named Indy and Miley and they are a treat to animal lovers and nature lovers alike.
Those who enjoy their trip to the Baiting Room and wish to visit each year or when the mood strikes can take part in the vineyard's wine club. With this prestigious membership at home or on vacation you can order different types of wine, food snacks, receive wine pairing advice, be first to know of new releases and holiday promotions. At the vineyard, you have discounts on wine, food and snacks as well as a free wine tasting. In addition, you can take a free vineyard tour and seasonal hayride. Even property rentals and use of the party and conference rooms are also available at a discount.
Make BHFV your outdoor celebration location today.
Business Events

Outdoor Area

On Site Ceremony
For more details about amenities, please message the Venue.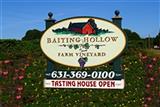 631-369-0100

631-208-0800

August, 2015
Baiting Hollow! They were the first place we thought of when we knew we wanted to do the vineyard thing for our wedding. Baiting Hollow is so much more than a vineyard. They're a horse rescue, a concert venue, and they have a whole lot of different events and things going on here all the time. It's a happening place, and we spend a lot of time there! We knew that they'd do a great job with our wedding because we'd been to a lot of their concerts, and they put on a great production. They had all the amenities we needed and the space. They are also all so friendly. Seriously nice folks. They actually make you feel like you are out in the country. Good old-fashioned welcoming manners and you get that feeling like you are visiting family or something. That's just how they treat you, like they've always known you and are just happy to see you drop by. That was how they were with us for our wedding. They left things up to us where most of the planning was concerned. They gave us freedom and space and let us do what we wanted, but they were always there to lend a hand or make a suggestion or give us any other support we needed. I loved that balance. It was the same way on our wedding day. The staff kept out of the way and gave us the privacy we needed, but they were always there to help when we needed anything at all. Where else would we have found service like that? Thanks to Baiting Hollow, our wedding was perfect!

September, 2014
We always envisioned an outdoor wedding, and nowhere seemed like a better choice than the vineyard, since we had come here many times for wine tastings, parties, and so on. We adore their wine, and a lot of our friends and family love this place as much as we do. We remembered hearing that they did weddings, and we just loved ours! They provided everything for us. Beautiful themed invitations, the wine of course, delicious food … and they put us in touch with a florist who did a stunning job on the wedding flowers, especially my bridal bouquet. Such lush, beautiful colors. The flowers looked great in the vineyard setting. We got married over by the gazebo. It was a beautiful ceremony, and the gathering afterward was exactly what we were hoping for—low key, intimate, private, and a whole lot of fun.
1 out of 1 found this review helpful

June, 2014
We had our wedding reception here, and are so glad we went with this choice! We wanted something a little less in the urban vein and with more of a country vibe, because we're from the country and we really miss it. This vineyard is an absolutely beautiful setting. They do a lot here—they have horses too, and I guess they run a lot of regular live music events. They did an expert job with our wedding party. The staff was super-friendly, and the food was so good, and the wine menu … I can't begin to tell you how awesome it was! We will be back in the future to check out some of their other events and activities to be sure. We can't wait to say "hi" to the friendly staff again, not to mention some of those beautiful horses!
1 out of 1 found this review helpful
Stats
14,602 views since Feb, 2010
Share