Four Points by Sheraton Plainview Long Island


The Four Points by Sheraton Plainview Long Island is a beautiful and delightful place to hold any special occasion or corporate event. Your guests will love the rooms as well as the banquet halls for that your wedding reception. The hotel offers personalized service and attention to ensure that your event goes smoothly from beginning to end. They also offer AV equipment and wireless high speed internet for corporate meetings.

The rehearsal dinner as well as the reception can be planned perfectly with the services they offer including room blocks, shuttle service for you and your guests, rehearsal dinners, and post event brunches.

Other amenities offered by the hotel include business center, fitness facility, concierge service, golf courses close by, 24-hour front desk, luggage storage, outdoor heated pool, and free parking facilities.
Business Events
For more details about amenities, please message the Venue.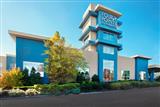 516-694-6500

516-694-4718

August, 2015
I had the job of putting together a huge corporate event for my company, a big industry thing. I don't mind telling you I was a little bit intimidated, since I never planned anything except a few small company events in the past for just our office. I never had to do anything for this many people before, from several different offices. I picked this hotel for a few reasons. First off, it fit our budget. Secondly, it's got a great location and wasn't going to pose a lot of hassles for transportation. Thirdly, I was really impressed by the customer service. They made booking a breeze, and the person who worked with me was so patient. I kept adding things and changing things. Everyone who dealt with me from that first day through to the end of the event was awesome. Whatever I needed, whether it was a change in seating, some audiovisual equipment, or a car or a concierge suggestion, someone was able to help me get it all sorted out. They made me look awesome to my employer! Staying here was great too, according to everyone who did! Thankfully this wasn't a remote job for me; I live right here in town. But all the people we flew in from the remote offices had to be put up here. I asked around and everyone had only the most glowing praise for the rooms and the amenities. I'm told that the fitness center was fantastic. So yeah, Four Points was the way to go! Our meeting was a big success, and so was I! I won't be half as intimidated if I have to do this again next year. I'm totally just going to do it here again.

June, 2015
I wasn't sure that I wanted to get married at a hotel. It seemed like it might just all feel a little too … corporate for me, but my husband talked me into it on the rational basis that, well, it was rational. I had to concede his point because we both are pretty much on our own out here, and our friends and family are scattered across the country. That meant that no matter where we got married, everyone we knew was going to have to travel to see us. So we would have to block out rooms at a hotel for them, and at that point, we may as well just do the whole thing at a wedding to try to keep it simple and keep the cost down. And as usual, when hubby is right about something, I go along with it. It only took a few weeks into the planning for me to realize that he was right on the mark with this one. I mean, I was practically overwhelmed by the planning even with us doing it here at the hotel. I can't imagine how hectic it would have been trying to plan if we were holding the reception somewhere else and still having to worry about the hotel at the same time. It is exciting planning your wedding, but it is also difficult. There is just so much to keep track of. Sheraton made it much simpler by taking care of the complexities of planning for us. They helped us to get the rooms all booked that we needed, and they even threw in the honeymoon suite for us for free. All the rooms were nice according to our guests. There wasn't one person who had anything bad to say. And since we were all in one wing of the hotel, we were all able to hang out together. The honeymoon suite was beautifully decorated! That was a nice surprise. We knew they were going to, but we had no idea how amazing it would be. There were rose petals, champagne, chocolates and everything! Very sweet and romantic. I was actually surprised by just how much they were able to do to make our wedding special. Again, when I think "hotel," I just can't help but have an image of corporate conferences and business trips. Maybe that's because I have been on so many of them. I admit that "corporate" is definitely the vibe you get here in the catering hall. The chairs look like something out of a corporate meeting hall, and the carpet has that corporate look about it too. The walls are just plain taupe. It's a nice hall though, and with some work, we were able to make it look more inviting. They were willing to suggest a florist who did an astonishing job on the centerpieces. They also suggested decorators who provided us with gorgeous table linens. It made it all a lot warmer and less corporate looking. We were also surprised by what the caterers were able to do. You think of hotel food and you usually don't think of much (then again, this may also just be a reflection of my own experiences). Anyway, where other hotels go wrong, this hotel goes very right! The chef was such a pleasure to plan with, and was so flexible about the menu options. The cake was the best part though! I couldn't stop taking pictures of it. It was so pretty and I wanted to save it forever! They had to keep telling me it was time to cut the cake now so we could eat it heheh. The slice I got was way too small! Everyone else said the same thing too. I mean, it was really, really good, and of course when you have a couple hundred people at a wedding, even a big cake doesn't go too far. They had other great desserts too though, and there was more than enough food all around. The buffet was huge! So would I recommend Four Points for your wedding? Yes, I definitely would! I know it's a hotel and that may not sound all that exciting or atmospheric or romantic, but you would be surprised. By the time the catering hall was decked out, it looked great, and it was so nice that we could stay here with all our friends and that we didn't have to run around town and deal with transportation. That ultimately meant spending more time with our family and friends and of course, each other!

November, 2014
We went with the Four Points for our wedding largely because it was a convenient choice. About half our guest list were people who had to fly in or drive up to come to the wedding, and we needed to reserve hotel space for them. We were having a hard time booking at most locations. The Four Points was the first place where we were able to get the bookings squared away without any trouble, and the event manager was far more accommodating than the others we had spoken to. We got married at a church in town (which I'm glad of; it was prettier than the hotel), and came back to the hotel for the celebration afterwards. There was plenty of space, and the dinner buffet was lovely. The food was actually surprisingly good for hotel food. I don't think that they do a lot of weddings here, but you wouldn't guess that from the quality of the catering, which was really quite excellent. You can tell from the décor though; the dining room feels a bit business-y to me. That was a definite detractor, but not a huge one. It is still a nice space with plenty of room, and the staff really knows what they're doing. We all had a really fun time! How were the rooms? We didn't stay here, but enough of our relatives did that I can say with certainty that this is a very nice place to stay. Everybody told us it was very comfortable and that they had a fun night even after we left. There were no hassles, and they did a great job fitting us in. They were able to book all the wedding party rooms together, which was great! We are very happy with the service they provided for us, and we loved the dinner!

July, 2014
We needed a hotel venue for our meeting since we had people flying in, and we must've gone over about a dozen choices before we chose the Four Points. The facilities were perfect though and so were the rates and amenities. They offered everything we needed, and our event was exactly what we were looking for.
Stats
21,887 views since Jan, 2011
Share