Royal Palm


Located in Farmingdale, NY, Royal Palm is known for its elegant and romantic atmosphere, and delicious cuisine. The facility offers a variety of wedding packages to suit your needs and budget. The all-inclusive wedding package offers the following services:
Bridal Attendant and a private bridal suite
Your choice of linen colors
A Maitre D'
Place cards and directional cards
Valet parking
Limousine service
Bridal flowers
Music and entertainment
Photography
On-site ceremony capability
Wedding packages include a Grand Manor reception with a sit-down formal dinner or a Grand Manor Buffet style dinner. The professional staff will assist you in customizing a menu to fit your needs. Whether you are planning an elegant cocktail party with champagne and caviar or you enjoy traditional cuisine, the skillful Chef will prepare a feast to satisfy all tastes. Upon arrival your guests are greeted with chilled champagne and fresh strawberries. The open bar serves a full selection of top shelf liquor, fine wines and beer. Cocktail hour includes a variety of displays like international cheeses, Italian meats and vegetables; hot and cold hors d'oeuvres are offered butler style. Your dinner reception includes appetizers, salads, pasta, entrees and a Grand Manor tiered wedding cake, beautifully decorated and created with your choice of filling.
Choose from four well-appointed banquet rooms: The Plaza, The Manor, The South Room or the Lounge. They can accommodate 125 guests each, or join them together for one large ballroom with a capacity of 400; dance the night away on one of their spacious dance floors. A gazebo is also available. From their sophisticated cocktail room with a romantic fireplace to the magnificent ballroom, you will be pampered by the whole staff and your personal bridal attendant in one of Long Island's largest bridal suites.
The Royal Palm offers elegance, privacy and outstanding service. Choose this renowned facility for a celebration in style!
Seating Capacity

50 to 550

Price Range (per plate)

$35.00 to $70

Simultaneous Events

3

# Of Reception Rooms Available

4

Business Events

Outdoor Area

Bridal Room

On Site Ceremony

Valet Parking

Off Premise Catering Available

Kosher Menu

Outdoor Area Terrace

Outdoor Area Patio

Dance Floor

Wheelchair Accessable

Coat Check

Live Music Permitted

DJ Permitted

AV Equipment Available

Must Use In House Liquor

Must Use In House Caterer

Air Conditioned

Kitchen On Premises

In-House Party Planner

Tables Chairs Included

Virtual Tour Available

Premium Liquor

Separate Room for Cocktail Party
For more details about amenities, please message the Venue.
Q: What sort of different event packages do you offer?
A: We offer budget friendly All inclusive Sweet 16 and Wedding Packages !
Q: What is your minimum and maximum capacity for an event?
A: min : 40 people max : 500
Q: What is it that makes your establishment and location perfect for an event?
A: Our helpful event specialists that pay attention to detail and top of the notch staff.
Q: How far in advance should someone interested in using your facility book it?
A: a year to 3 months in advanced
Q: What type of entertainment accommodations do you offer?
A: DJ, photography, limousines, florist are all included in our packages
Q: How many events can you have going on in a single day or concurrently?
A: 3
Q: What is your typical staff to guest ratio?
A: 1 waiter per 15 people
Q: What can you tell us about accepted payment methods, deposits, or payment plans?
A: cash, debit, visa, and MasterCard
Q: Are there incentives for using your house vendors, and what can you tell us about your house vendors?
A: All of our house vendors are already included in our packages
Q: Do you offer tastings or host any showcases?
A: yes - next super sweet sixteen showcase coming in April 2014
Q: Can you tell us about some of the special events that your facility has held?
A: weddings, bar/bat mitzvahs , sweet sixteen's, quinceaneras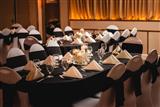 516-845-1151

516-293-0934

August, 2015
Royal Palm is royally awesome! I was here for my aunt's wedding a few years ago, so it was one of the first ideas that sprang to my mind when I was tasked with planning my cousin's baby shower. I remembered my aunt's wedding being an incredible party, and I especially remembered having great experiences when I talked to the staff. So I knew I could expect another great experience holding the baby shower here. Guess what? It actually blew my expectations out of the water. The staff were more amazing than ever, and they put so much personal attention into making sure that everything was exactly what I wanted! On the day of the shower, my cousins was so thrilled! She knew we were bringing her somewhere special, but we'd kept it a secret, and her reaction when we drove her here was classic! She was so overwhelmed; she couldn't stop smiling! I swear that smile stayed on her face every second of the afternoon, from the moment we parked until the moment we finally all went home. The food here is awesome, the staff are so attentive, and it's just a great spot to celebrate a special moment in the life of someone you love. The shower was everything I hoped for, and she is still thanking me!

May, 2015
When I got married here, it was still known as Stuart Thomas. I got a little bit confused when I went hunting for their review page. I've been slowly reviewing all the vendors we worked with, and just finally have gotten around to reviewing the venue itself. Now I finally get it! Stuart Thomas is now Royal Palm. New name, but a well-established venue, as they were when we decided to marry here. In fact, that was one of our number one requirements. We wanted to get married somewhere we'd heard of and which had a strong reputation. I mean, who wants to take chances with their wedding? Not us. Amanda was our planner. She worked with us to choose the right package for our needs. Since we were already set up with a few outside vendors (for flowers for example, we had a florist we knew we wanted to use), it made sense for us to choose one of the less comprehensive packages. There were a couple of good choices that would have made sense for us. We chose the Grand Manor reception package. That one came with the bridal suite and attendant, maitre d', host and hostess, and a four hour reception and cocktail hour. The open bar was amazing, and they even made a cake for us. There was this really incredible ice sculpture as well. That was a cool bonus, something I don't think we would have gotten anywhere else. I love stuff like that, so I was really stoked about it. I can say that it is a really beautiful place. The décor is incredible, even before you add to it and personalize it and make it your own. This is a great choice if you want something that looks really rich and opulent. Everything sparkles and shines in here. I would give them a 100% recommendation to anyone. There was literally nothing that we were not completely satisfied with.

May, 2015
Our wedding was a phenomenal experience, and I cannot say enough about the marvelous staff here! We are still talking about the incredible buffet, the beautiful banquet hall, and most of all, Mary, who helped us plan the whole thing from the beginning. She was not intimidated by our huge guest list, our lengthy list of requests, are hundred questions, or even my wad of nerves. Anyone else I think would have run for the hills when they saw how anxious I was to get everything perfect! But she was always ready to take on any challenge. Nothing was too difficult or to unusual for her. She understood that I had an exact image in my head for how I wanted things, and she was determined to bring it to life, and that is exactly what she and her excellent staff did. To be honest, I did not really expect perfection, but perfection is what I got. It was exactly the way I envisioned it down to almost every detail. Mary, you are incredible, and so is everyone on your staff. Thank you, thank you, thank you!

April, 2015
While we were deciding where to have our wedding celebration, we were mostly worried about finding a place big enough for all of our guests, and one that would help us with all the arrangements. We didn't want to spend a ton of time trying to contact a million different companies to provide the music, entertainment, decorations, etc. We wanted it to be simple. At the same time, we didn't want to find ourselves with a cookie-cutter wedding at a cookie-cutter catering hall. There are just so many that blend one into the next, and that was what we noticed both while we were researching online and when we were visiting the different places we'd written down. Finally we found one that stood out from the rest. It's still your typical ballroom/banquet hall/catering company in a lot of ways, and it's not the most unique place in the world, but it definitely has a little something more than what you find at your typical catering hall. We were really amazed by their portfolio photos and what they showed us in person on the grounds. They had done a really incredible job with lighting and decorations for other weddings, and we knew they'd do a wonderful job with ours too. There is a certain elegance to this place that we didn't expect to find. Everything with the packages was easy and so flexible! They basically will offer you a number of different packages you can choose from, and you pick what you want based on price and the services they provide. For our wedding, we chose the all-inclusive package, which had literally everything in it that you could possibly hope for. We got the reception, the cocktail hour, a champagne toast, an open bar, a wonderful maitre'd and bridal attendant, a beautiful bridal suite, and more. They also provided us with 10 passenger limousines and a town car, flowers (centerpieces and everything!), photography, and a DJ that took our custom music selection. Our event planner was Amanda, who was just a dear! She not only was great at getting everything organized and set up, but she was amazing at reassuring me too! She totally seemed to understand all the stress I was dealing with. That more than anything was what made her the perfect person for the job in my opinion. She can really relate to both the stress and the excitement, and I could tell she was excited about our wedding too, and wanted everything to be right. At the same time, having her there really alleviated my stress, because she never seemed stressed! Watching her work, I felt like she had it all in hand, and all I needed to do was trust her. She made that easy! Sana was our maitre'd, and she was just as amazing. She was the one who made sure that everything was set up and ready in time. She handled everything from the floor arrangements to the linens to my own needs. Like Amanda, she got the whole stress thing, and made me feel just so much better! We had a wonderful time at our reception, and if there were any hitches or anything went wrong, I certainly never knew about it. They handled everything beautifully, and we all had so much fun. This is a classy, vibrant, fun place to have your reception, and they will take care of literally everything for you so you don't have to worry at all. We enjoyed our day so much. Thank you again to Amanda, Sana and everyone else!

November, 2014
We could not have chosen a better place for our wedding celebration! Thankfully it was a really easy decision since we had actually been here for another wedding several years back. It was my sister's wedding, and she did their brunch buffet package, which was wonderful. We did one of the other packages (there are a bunch to choose from). I was amazed by how different my event was from hers in terms of food, ambiance, décor, lighting, everything—we had very different requests and preferences—but what stayed the same was the incredible quality of service and just the amazing beauty of the whole event! What we went with I think was called the "all inclusive" wedding package. We got the cocktail hour, the three course reception dinner, and the open bar. They provided literally everything. That included transportation—we had like a fleet of limousines at our service for hours)—flowers (which were gorgeous), a DJ, light show, and even a photography package. We wavered a bit on the photography package since we have heard that a lot of venues don't do great with that in-house, but when we saw the portfolio, we were sold! It was so nice not to have to plan all this ourselves! We were really happy with what they put together for us. They did a lovely job with the lighting and the music was awesome! The DJ worked with us to put together a custom playlist, and everyone had an awesome time dancing the night away. The limousines were amazing! What a way to travel! Only complaint about the entire thing really is the décor in the venue (underneath whatever you choose to put in yourself) is a bit dated. You will feel at moments like you've stepped back in time a couple decades and it's the 80s. If you don't mind that though (and it really is a very minor detractor), I think you'll love it here!

October, 2014
When we got engaged, we agreed right away that we didn't want to put a lot of fuss into planning our wedding. We wanted to do it right, and we wanted it to be beautiful, but neither of us are really planning types, and the thought of going from vendor to vendor in search of what we needed was not one we relished. So we made it a point to look for a wedding venue that could handle everything, an all-in-one package. We decided on the manor because 1-we loved the venue itself—it is a beautiful place, and 2-the service was outstanding. Mary started talking to us right away and asked us all about our plans and what we wanted. She was really enthusiastic and ready to help out with everything. She was brimming with ideas for the stuff we hadn't thought much about (entertainment, flowers), and was keen on satisfying all our specific requests (we had considered catering, and were very particular about photo and video). The manor itself has a lot of different rooms, and they helped us choose the perfect ones for our celebration and for the cocktail hour. We got married in there ceremony room and loved it. The room where we had our party was very colorful and made a pretty backdrop for our photos. The photographer they assigned did do a remarkable job. Thank you, Mary, for making an intimidating process so easy and fun. We actually enjoyed planning with you, and we loved every moment of our wedding day!

August, 2014
When we came to Stuart Thomas to plan our celebration, we were introduced to Mary, a wonderful, professional woman who we felt instantly was the right person for the job! She was very enthusiastic about our wedding and was so patient with us. We had a hundred questions and we kept asking for changes, and she made it all work. We were just so impressed with her willingness to help out even when we were totally disorganized ourselves. What else? We had a big guest list, but not huge. They found the perfect, beautiful banquet room for us, just the right size. There was room for everyone without it feeling like there was too much empty space. The lighting was beautiful and festive, and the dance floor was awesome! What about food? They had a great open bar, and delicious entrees. The fish was perfectly prepared and tasted amazing! They also provided our wedding cake, which was as beautiful as it was yummy. They get five stars for everything - atmosphere, food, planning process, customer service. We had the best time we could imagine!

July, 2014
We were assigned to work with Mary to set up our wedding plans. She immediately impressed us with her cheery demeanor and her commitment to getting everything right! She did an excellent job, and we had the time of our lives.

April, 2014
Mary and Michelle both worked hard to make this day as perfect as it could be! We were initially really worried with all the planning and very nervous that it wasn't going to work out, but they made everything simple and they made sure we were kept in the loop with every stage of the planning. The result was wonderful, and we were as happy with the planning process as we were with the outcome. A pleasure from start to finish.

October, 2013
I decided to have my wedding at Stuart Thomas Manor and I was very pleased. They exceeded my expectations by far. The food was incredible, the bridal suite was perfect and the banquet room looked immaculate . The staff was extremely accommodating and polite. The sales consultants were helpful and made my planning experience pleasant I would definitely recommend every bride to have their weddings at STM. The prices were perfect for my budget and I got everything I asked for and more.
Stats
58,955 views since Feb, 2010
Share