Trumpets at the Gate


Trumpets at the Gate is Long Island's premier catering facility for waterfront affairs. They specialize in intimate events for up to 100 guests and boast elegant settings, world-class cuisine and impeccable service. Overlooking the water, the building is designed in the style of a Hampton Cottage. The interior offers upscale atmosphere and all catering is done on premises. The restaurant Trumpet's on the Bay is located right next door and features a contemporary European look with white linens, fresh flowers and romantic candles.

The facility offers a number of indoor and outdoor options for your ceremony and reception. You and your bridal party will enjoy your own well-appointed private bridal suite. The balcony overlooks the majestic dining room, adorned by beautiful chandeliers, a warm and intimate fireplace, high vaulted ceiling and a spacious dance floor. Right off the dining room is the bar which serves premium brand liquor, bottled beer and fine wines. Valet parking is available.

Dedicated to perfection, Trumpets is truly an East End Pearl. The design of this waterfront venue offers understated elegance, panoramic views of the bay and a romantic soft décor. Guests walking out onto the bayside decks, sailing into one of the slips or just enjoying the views through the windows can experience the feeling of a private estate on the North Fork or the Hamptons. White glove service is part of every affair the facility hosts. The cuisine is as sumptuous as you would expect from a private estate with a personal chef, always prepared with the freshest ingredients and beautifully presented.

Trumpets at the Gate is an exceptionally beautiful venue for any special occasion. Whether you're planning a wedding, rehearsal dinner, birthday, anniversary or a corporate function, this facility can accommodate all your needs. If you have been searching for something truly unique, Trumpets at the Gate is it.
Seating Capacity

120

Price Range (per plate)

From $129

Simultaneous Events

1

Business Events

Outdoor Area

Bridal Room

On Site Ceremony

Valet Parking

Off Premise Catering Available

On-site party planner
For more details about amenities, please message the Venue.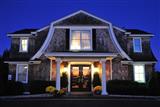 631-325-2900

June, 2015
This is not a huge place, but you will actually be surprised by how much space there is. Looking at it, it seems like a big house. Believe it or not, they have enough room inside that there is a small dance floor in a lovely banquet hall with high ceilings, big windows overlooking the water, and very pretty chandeliers. They have a smaller more intimate dining room too with a fireplace. It has sort of a bed-and-breakfast type of feel. My favorite spot is the outdoor patio though with the arbor where we got married. The view is fantastic. All of that was what captured my imagination. When I visited that first day, I could immediately visualize my wedding party—where we would stand when we said our "I dos," where we would all sit and eat, what we would eat, where we would take our pictures, where all our guests would sit, the dances we had planned. It was just so easy to picture ourselves getting married there, and we didn't feel that way about anywhere else. The other places just felt too big, too extravagant, and that really isn't us. It's just not our personalities. This place fit us so much better. And we chose very well! Our wedding was exactly the way we'd imagined it that day, only better. I still haven't gotten over what a great chef they have here. The dinner was just out of this world. And it was really fun working out the details too. I loved how friendly and willing to customize the staff here were about not just the food, but every detail of our event. The schedule, the program of events, where we were going to do things, it was all under our control. We got the exact photos we hoped for, and we ended up with a day where even the weather seemed like it wanted to help us make everything perfect. I want to individually mention both Lance and Lori. Lance is the owner, and Lori was our maitre'd. Both of them were two of the most amazing people I ever dealt with in any customer service capacity. Lori made everything go so smoothly and took amazing care of us on our wedding day. And Lance visualized our wedding with us on the day we met and really got into it. He was so involved with the process, you'd think he was planning his own daughter's wedding or something. I don't believe for a moment you'd get that kind of service at one of the big catering halls in town. The long and short of it is that Trumpets at the Gate is a remarkable place, staffed by remarkable people, all of whom are just so wonderful to work with. When you see this place, I know if you're like me you'll be able to imagine yourself there right away. And if your wedding goes as smoothly and perfectly as mine did, you will have imagined every detail just right. But you'll still enjoy some delightful surprises along the way as everything turns out to be even better than you could have dreamed.

April, 2015
When we were trying to figure out where to have our wedding, we were really overwhelmed by almost everything we saw! I called venue after venue only to be told over the phone to go elsewhere, because my wedding party was too small and the venues were too big! Most places here handle in excess of 100 people and set a pretty strict minimum which was way above the size of our party. We wanted to keep it small! Just us and our family and our closest friends. I mean, it's a special day, and we wanted to just share it with those people who are most special in our lives. Finally I called Trumpets at the Gate. I was at my wits end, ready to hear another rejection, and dreading the next phone call. I don't know how many I had already called, but it felt like dozens. I was so pleasantly surprised when I was told that the size of the venue was ideal for our little party, and that they had no problem accommodating such a small number of people. In fact, they told me that they regularly have to turn away bigger parties! I didn't even put any more time or thought into it then that, I just said "yes," made the reservation, and left the rest up to chance. I was just so tired of looking at venues and wanted to get on with the planning and start having fun already! So I just kept praying that everything would work out, and that I'd picked a good place. I just couldn't imagine calling any more places! As it turned out, we probably picked the very best venue we could have, and I bet it was nicer than all those places that told us "no!" We love this little place. It's essentially like a big house with a gorgeous deck and a nice view of the water. It's family owned, and we actually worked directly with one of the owners on our plans, Lance. He was our go-to guy through the whole thing, and he was a pleasure to work with! I know those big venues don't work that way; you don't get to deal with the owner face to face. It was great, because there was nothing he couldn't do. Since he called all the shots, we were always working with the guy who could make things happen. It was clear to us he loves his job, and is really passionate about running his venue! Lance not only handled special requests, but encouraged them. He treated us like individuals, and handled each detail of our wedding as an individual request. In other words, it felt like we were planning our celebration from the ground up with him, not like he was trying to fit us in a mold. The package was completely flexible, and he let us customize it to our hearts' content! Lori was awesome too. She was the maitre'd, and she had everything covered on the day of the wedding. She was there early and answered questions for us. I was totally anxious and I kept freaking out about things, but she had an answer ready for every question almost before I asked it, and immediately set my nerves at ease. She was the one who made sure we were always where we needed to be and that we had everything we needed at every moment. A word about the food: it rocks. There's a restaurant attached to the venue, and they make gourmet food every single day, so the chef really knows his stuff and makes awesome food. I had some kind of salmon for dinner and it was just beyond amazing. I know we can't repeat our day, but at least we can go back to the restaurant and have the amazing food again anytime we want. I could rave about everything about this venue, but I think there were two main areas where Trumpets really blew me away (no pun intended). The first was the staff, who were really kind and made us feel like we were special and like they were really passionate about making our day perfect. I never got the impression on the phone with any of those other wedding venues that they took me all that seriously. I was just another number to them, not a person. Right from that first phone call, the folks here were completely different. They treated us like we were their friends or something, and they really seemed to understand how frustrated we were by all those calls. They assured me right away that my search was over, and continued treating us like gold from that day forward. The second thing that I loved was how intimate this place is. If your ideal is a small wedding with those you are close to, you will love it here. There's enough space for everyone, and it isn't cramped or anything, but you won't get lost in a huge echoing building here either. You are always close to the other people in your party. This is a place to celebrate your wedding with the people you love!

September, 2014
If you're looking for a venue for a small waterfront wedding, this is as ideal as you're going to find. It's located on a kind of peninsula, so there is water on every side pretty much, which is very lovely, and makes you feel like you've kind of gotten away from the hustle and bustle of everyday life. We had our event in the late afternoon/evening, and the venue looked beautiful at dusk. I imagine it'd be lovely at any time of day, probably very nice in the morning too, what with the sunrise over the ocean. They can handle roughly 100 people here, slightly more or less. We barely got in over their minimum of 60 people. It's entirely the opposite of the giant venues that are so popular here for huge weddings with like a thousand people. Instead of a big, echoing, impersonal hall, you have this quaint, charming little house that just defines elegance and intimate, personal comfort and luxury. Check out the back deck area when you visit. That's where they do the cocktail hour. You're right next to the water there, and you can watch the boats passing below. There are some lovely flowers growing up against the building back there and it smells incredible. Indoors, you still get the beautiful view, thanks to wide windows overlooking the bay on three walls. Very nice. We worked with several different people here. It's family owned and very local, which was something we really liked. I remember when I was working with my sister to plan her wedding, and she had to deal with dozens of different people at one of those huge wedding places I was mentioning earlier. It was so chaotic and crazy. We just dealt with a handful of people here and got to know them well. It made it all a lot less confusing and much easier. We mostly worked with Lance, who is one of the owners. Lori as well, the maitre d', was wonderful, especially the day of. They did all their final checks before the wedding started to make sure that everything was in place exactly as we'd planned. If you've been to a lot of weddings, I'm sure you've quickly figured out that most wedding food is overpriced mediocre cuisine which tries and fails to pass off as gourmet. That is not the experience you will have here! The food was genuinely as delicious as you'd hope at the price tag, as good as the best gourmet we've had anywhere in this area. If you don't know this, they do run a restaurant, Trumpets on the Bay. It's a delightful spot to eat—again, the same magnificent food, and a lovely view of the bay. We'll probably be eating there regularly now. They know us, and it is a way to remember our special day—maybe on anniversaries! Both the cocktail hour and the dinner were delicious. For dinner, you're allowed to let them handle the cake or bring one in from outside. For our part we decided to trust them with dessert, because why wouldn't we? They were so amazing with everything else. The cake was lovely and tasted wonderful. It was not just your standard wedding cake! It was again a delicious gourmet dessert recipe, complete with filling made of fresh fruit. Very yummy! Trumpets was everything we were looking for. There is a reason we only had around 60 people in our wedding party, and we were hard-pressed even to manage that. We wanted our wedding to be a personal, intimate event with the people we care about the most. The venue should match that, and Trumpets did. It was a personal experience in every way—like holding the party in our own house, but much better because we didn't have to take care of the arrangements, and the setting was so much better with the views of the bay. If small and private is your style, this is your place.

July, 2014
We had a gathering here that was just amazing. They really know how to put on an elegant affair here! Everything they brought out to eat was gourmet, just impeccably good. It is a very pretty venue too, and the location is nice. You really feel like you're secluded here. There's only one event at a time, so all the focus is on you and your guests.

July, 2014
When we started planning our wedding, we knew that we wanted something in the Hamptons. The other venues we looked at were just too big, and we wanted to keep things small, simple. This turned out to be the perfect venue--everything we could have wanted and more. Afterward we agreed neither of us could have imagined a wedding this beautiful, this perfect.

June, 2014
We had a smaller wedding; most of the venues we looked at originally were for huge wedding parties. We didn't want our event to feel lost and out of place, or to have other parties going on at the same time. We found this place, which turned out to be perfect for our small party. It was very small, the staff was very personable, and the location was lovely. Lance worked with us on every detail to make sure everything was perfect!
Stats
19,486 views since Dec, 2011
Share