Bayview House at Captain Bill's
Bayview House at Captain Bill's

Thank you for your interest in the Bayview House at Captain Bill's. Our staff, under the supervision of owners Peter McCarthy and Michael Korb, are prepared and excited to assist you in creating the wedding you have always dreamed of with a unique expression of your tastes, style and desires!
Our Bayview House, which has panoramic views overlooking the Great South Bay, is the ideal location for your special day. This totally private wedding hall features cathedral windows, crystal chandeliers, a fireplace and a spacious dance floor to create an elegant and tasteful scene for your wedding reception. You and your bridal party can overlook the exquisite ballroom from the balcony of the second floor bridal suite. Your guests will be able to experience glorious sunsets at cocktail hour in our tented back deck overlooking the harbor with five star service and exceptional cuisine.
We hope you can visit our facility for a personal tour. Our wish is to make your most important event one that you and your loved ones will cherish.
Our Receptions offer you the following:
Five Hours Including an Extravagant Cocktail Hour
Open Bar with Premium Liquor, Bottled Beer & Wine
Champagne Toast
Plated Dinner or Buffet Menu
Custom Made Wedding Cake
Platter of Pastries and Cookies on Each Table
Coffee and Tea Service
Maitre D' and Assistant to See to Every Detail of Your Wedding Day

Selection of Both Linen and Napkin Colors
Votive Candles on all Your Tables
Private Bridal Suite with Food and Beverage Service
Directional Maps for Your Invitations
Custom Floor Plan and Place Cards
Valet Parking with Handicap Accessibility
Coat Check
Seating Capacity

30 to 250

Simultaneous Events

1

# Of Reception Rooms Available

3

Business Events

Outdoor Area

Bridal Room

On Site Ceremony

Valet Parking

Off Premise Catering Available

Outdoor Area Garden

Outdoor Area Terrace

Outdoor Area Patio

Overnight Guest Accomodations

Dance Floor

Wheelchair Accessable

Coat Check

Live Music Permitted

DJ Permitted

AV Equipment Available

Must Use In House Liquor

Must Use In House Caterer

Air Conditioned

Kitchen On Premises

In-House Party Planner

Tables Chairs Included

Parking Lot

Premium Liquor

On-site party planner

Separate Room for Cocktail Party
For more details about amenities, please message the Venue.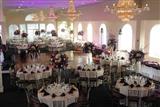 631-665-6262

July, 2015
We are huge fans of Captain Bill's restaurant. That place just rocks! Best seafood in the area, and better than stuff with double the price tag. Love the ambiance too, so we eat there all the time. It is our favorite place hands down. We thought immediately of them when we were working out where to have our reception. We got married downtown at my husband's parents' church. His family is really religious, and were the main reason we actually had a wedding instead of getting eloped. Big family too, so we had a lot of mouths to feed after we said our I do's. This just seemed like the smartest choice. We already knew that the food would be excellent, we had met the owner already in the past and enjoyed chatting with him, and the seaside location is ideal. The fact that these guys run a banquet hall is just really fortunate. If they hadn't, we would have been tempted to try to squeeze everybody into the restaurant. That wouldn't have worked of course, but it was something we seriously considered before we knew that this was going to be such a big affair. They had just the space we needed in the banquet hall though, and they had a dance floor and everything. I think it's also worth mentioning that this is a surprisingly lovely spot. Usually when you have a restaurant that runs a catering hall on the side, the hall is pretty simple and doesn't have a lot of glam to it. This was a very glamorous place! The arched windows are beautiful, and they have a nice hardwood floor and beautiful chandeliers sparkling above. They also make it easy to set up lighting and get an ambiance every bit as spectacular as what you would get at one of the more expensive catering halls. Tables were set beautifully with elegant linens and place settings. Once we brought our flowers in and got our centerpieces set up, we really had transformed it into something astonishingly beautiful. So many of our guests remarked that they were surprised! As my cousin said, "If I didn't recognize the food, I'd have no idea that this was basically Captain Bill's." The food was the same great food that we were used to … only 10x better! Their chef really went all-out for us. It was like the gourmet version of the recipes we already loved, plus stuff we never had tried before. They served us the cocktail hour and the reception dinner both. And did I mention how great the staff all are here? Everyone from the servers to the chef to the owner … I especially want to mention Peter, who was there for us with every detail. He made everything we wanted possible, and really went out of his way to see to it that we got the wedding we (and our families) wanted. I am really happy now that my husband's family pushed so much for us to have a big wedding. It became the most memorable day of our lives, and it would have been so sad if we had eloped and missed it. They were totally right about how important it was to take the time to really celebrate. After all, we deserve that. We loved everything about our wedding and everything about this banquet hall. And we love Captain Bill's and come here more than ever! If you want to celebrate at a banquet hall which is unpretentious and which serves great seafood and has an amazing staff which will go above and beyond for you, this is your place. I dare you to find better. You won't!

December, 2014
This is a great place to have a wedding! Don't be deceived by the picture of the exterior. There's really two things here, Captain Bill's, which is a restaurant, and Bayview House, which is a banquet hall. They're both owned by the same person, so you get the same awesome food at both. Captain Bill's is one of our favorite restaurants, and we've eaten there many, many times. The service always impressed us, and the food is just the best. So Bayview House was just the logical choice for our wedding party. We just put "Bayview House" on the invites instead of the full name, because it looked better that way. A lot of our guests already knew the place was next to Captain Bill's and were excited about it! It's really nice inside the banquet hall. Big windows, beautiful chandeliers, and a nice dance floor in the middle. You can see the bay through the windows (like the name indicates), and it's a really lovely view. The two buildings aren't attached, so you don't have to worry about crowds from the restaurant getting in the way or anything. The banquet hall really is lovely, and you can do the cocktail hour outside on the deck, which is perfect on a nice day. There's just one wedding at a time, and the price is a lot lower than what we saw quoted at some of the other bigger venues we looked at! We saved a lot going here, and the food was of course as great as always (love their crab cakes, yum yum!). So definitely take a look at this place if you are planning your wedding, love seafood, want to save some money, and are in search of something that's on the waterfront. I think you'll be pleasantly surprised. And if you already eat at Captain Bill's, you already have a pretty good idea what you can expect as far as food quality goes. Tour the venue, eat dinner next door, and I think you'll have your mind made up.

July, 2014
We worked with both Peter and Michael while we were planning our event, and they were both excellent hosts. They wanted to make sure that everything was perfect for us, and they did! It was a great time, and the same great food we are used to when we eat out here--better actually.
Stats
43,455 views since Jan, 2011
Share