Italian Gourmet Catering Truck
Italian Gourmet Catering Truck

Celebrity Chef Is Rockin' the Cuisine for YOUR next Event (Long Island)

Party Animals Only!
Looking for a Gourmet Alternative to catering halls? You're in Luck...

Sassy, classy and talented, Celebrity Chef Gail Chandler, has reinvented the home based party with amazing gourmet flare out of a sparkling SCV. (Suburban Culinary Vehicle, an Executive Kitchen on wheels.)

Chef Gail specializes in a making a unique, complete menu for your event at up to 70% off catering hall prices. From Block Parties, Surprise Parties, Movie Sets, Engagement, Sweet Sixteen, Bar & Bat Mitzvahs, After Party, & Graduations, to Business or Sporting Events, Fundraising, Festivals & Elegant Affairs, On The Scene Cuisine makes the menu to suit the occasion.

NO WORRIES. Invite all your family and friends - to your home, backyard, school, organization or corporate event - without the mess.
Tantalize your taste buds - for less.
Awesome Appetizers, Exciting Entrees, and Delicious Desserts
(will ship gifts of goodies in the U.S.),
are all part of the Party Plan!
Business Events

Off Premise Catering Available
For more details about amenities, please message the Venue.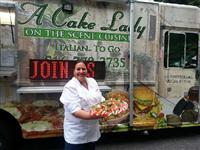 516-770-3735

April, 2015
Chef Gail is amazing! We went with her because she comes to you, and we wanted to have our party at home. We figured it'd be less expensive, easier and more fun and personal that way for everyone. Gail's prices were good and we all love Italian. As it turned out, we all loved her Italian especially! Her food is outstanding. She will just blow you away! She's also friendly, fun, courteous and committed to making you happy. She was able to handle all our requests. We are very, very happy we did this! I hope we find a chance to hire her back again soon for something else!

March, 2015
We hired Chef Gail to help us out with a backyard party! It was really easy and convenient. We didn't want to do something complicated where we'd have to go out and get the food from a caterer and bring it back. We knew we wanted Italian food, so she was just the option that made the most sense. She drove out in her vehicle and was there on time—slightly early actually—and got everything all set up for us in a jiffy. She was so nice and fun! We enjoyed chatting with her and the guests all loved her and her amazing food. Everything she cooked was just outstanding. She also does desserts and specializes in cakes. We had her do a cake for us and it was awesome, just as good as the dinner! In short, she was a joy to work with. She's incredibly fast at what she does, and the food really does taste like gourmet, as good as anything you'll get from a fancy fine dining restaurant. Thank you Gail, for making our party a huge success! I imagine you'll be getting more calls soon from our friends!

July, 2014
We hired these caterers for a party, and we loved their food and their service! Gail was a pleasure to work with, and she was great taking into account our requests and everything. It was a great evening, and the catering was a big part of the party's success.

April, 2014
Wow, Gail is one amazing chef! We absolutely loved everything we had. Also a very fast and friendly service. Recommended for any gathering.
Stats
4,831 views since May, 2013
Share