Clovis Point Wines


Clovis Point is a wine lover's dream getaway. It has a tasting room where even the most inexperienced wine palate can enjoy a glass of red or white wine. Clovis Point has space for weddings, receptions, weekend getaways and a business conference where the focus may not be on wine, but that is where the conversation winds up.
The barn is the focal point for Clovis Point with a backyard patio and vineyard lawn. The patio is fully covered and can accommodate a large amount of guests plus your view is of the vineyard. The tasting room will have you feeling the warmth of the wine while you enjoy the view. The room has bluestone floors with mahogany doors and windows. It's a sight for the eyes on the inside and the view is great too. There is a VIP Room for a private wine tasting and parties.
Clovis Point has a wine club for its elite members and lovers of wine. The fee is free and you can the wine that you tasted and fell in love with delivered directly to your door. In addition, there are members only events, wine discounts, discounted wine tasting costs and notes that pair each wine with the perfect food. You can set across from the beauty of the vineyard, sip your wine of choice, and have pleasant and stimulating conversations all around.
At Clovis Point, you can enjoy a weekend destination or a yearly road trip. Maybe it is an anniversary or a girl's night out. You may even introduce your friends or finance to new wines at Clovis like the 2004 Merlot or the 2006 Chardonnay plus a list of others. Tip your glass in the right direction and fill it with red or white. You never know where the night will take you.
Seating Capacity

200

Business Events

Outdoor Area

On Site Ceremony

Valet Parking
For more details about amenities, please message the Venue.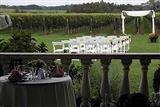 631-722-4222

June, 2015
If you're getting married on Long Island, get married at a vineyard! I don't know why you'd do anything else, honestly. Well, that's not true. We did think about getting married on the beach. It sounds romantic, but then I remembered how much wind there usually is blowing on the shore, and that sounded like it probably wouldn't be the best thing with my veil and everything. The vineyard made a lot more sense. Plus, you really feel like you've gotten away from it all out here. It's so peaceful and relaxing! And Clovis Point is just beautiful! We had a small wedding, and we did it all right here: the ceremony, the cocktail hour, the dinner, the party. Personally I love that we went small like this, because it meant we could really personalize everything. We wanted to bring a lot of our own décor and use a lot of DIY and local elements, and they fit perfectly in the setting, and the staff was completely cool about us bringing so much stuff. The place would have looked just fine without being spruced up at all to be honest. That's how lovely it is. But with our flowers and our décor, it had just that charming rustic feel we were going for! We made it a low key affair, and we had a really great time. They let us rent out the entire place and have it all to ourselves. The event lasted for hours, but it flew by so fast that it seemed like it was over before we knew it. We loved it, and I wish we could do it all over again!

April, 2015
Clovis Point is an amazing place. One of the benefits of living here is that all you have to do is travel to North Fork and you can step out of your car and feel like you've left the city beyond. I love to imagine I'm in the vineyards of Tuscany or something like that! There are a few places we love to visit, but the one we come to more than any other is here. It's a little boutique place. There's only about 10 acres, but they are gorgeous. It isn't very old either. I think that it was founded around 2000 or something like that, maybe a couple years later. They've got a really nice tasting room, and they take steps here to discourage big tour groups and stuff. That way it never gets really crowded. If you show up with more than a few people, you actually have to make a reservation. Usually we come on our own, just the two of us, but we did place a reservation for a party once, and we all had a wonderful time! Once again, I appreciated the fact that it wasn't crowded and that we basically had the place to ourselves. You would not believe how reasonably priced this place is. You can try the entire tasting menu for like $11! And if you pay more, you can also enjoy some really awesome cheeses. It's so cool. I like most of the wines I have tasted here, though my favorites are their Chardonnays. We're members of the wine club, which is a great deal if you know you'll be purchasing and tasting regularly. We get a 20% discount on all their wines. We also get to try their limited edition wines, and there are free tastings when they come out with something new. It's for two people, so it works perfectly for us. If you have not been here, you should come around and see what it's all about it. Even though it's smaller and not as well known as some other vineyards around here, it is quieter and you will love the fact that it isn't bustling with crowds. The wines are delicious, and it's just a great way to spend an afternoon.

December, 2014
There are a whole bunch of vineyards located right around here, and we looked at several of them all on the same day. We got the best and most professional reception here, where the manager was available to talk to us and excited about our wedding. We felt most welcome here, and they were just the best all-around fit for us. We did not have a very big guest list; we wanted to keep it small and simple and intimate. This is the best place for that. We just loved the rustic banquet hall, and the vineyards themselves are beyond beautiful. And you know what? This place just felt more authentic to us than some of the others around here—less like tourist traps and more special somehow. Our wedding party was every bit as wonderful as we hoped, and we had a really lovely time. Everything was just the way we had imagined it, and we really enjoyed working with these people to make our dreams come true. Our guests had a great time too, and it was so fun having this place all to ourselves!

November, 2014
We decided to have our wedding here for a couple of reasons. The first is that we just love vineyards! This is one of the most beautiful areas anywhere in the northeast region, and this is probably the most beautiful vineyard of them all. The other reason is that we needed to find somewhere that would accommodate our party! Most places would only start the guest list at 50 or more! We had far less than that, and this was actually one of the very few places in the area that would consider hosting us. We didn't want to just marry in a government office, pick a restaurant and call it good. We were actually getting really frustrated with how many venues were turning us away at the door or on the phone. We were so happy and relieved when these folks gave us a "yes" straight up! They didn't seem at all troubled by how few guests we were bringing, and the venue was much prettier than any of the others we had looked at! We realized we'd actually lucked out, because in the end this was a much nicer choice than the others would have been. We actually found ourselves being grateful they had turned us away, or we never would have discover the place we really were meant to get married and celebrate our special day. They have several different areas here where you can tie the knot. We chose one of the lovely outdoor spots. The day dawned bright and warm, and the sky was clear, for which we were really grateful! They have beautiful landscaping here. Flowers add a splash of color, and everything else is just gorgeous and green! The party was inside the barn, which is also the tasting room. It's rustic inside and out, and that was one of the things we loved about it. The wood walls really give it this warm, cozy vibe, and made us feel like we'd traveled far from the city. There's a surprising amount of space inside there; it's bigger inside than it looks from the outside. I get the impression that this place is a bit more off the beaten path than most, and I don't think they host nearly as many weddings as some other vineyards in the area do. In a way though, we were glad of that. They were happy to do things our way, and we didn't get a sales pitch at any point—just kind, cooperative people who wanted to make us happy. It all had a much more personal feel for that reason. We will be back for a tasting sometime soon!
Stats
10,069 views since Feb, 2010
Appears In
Share