Clovis Point Wines


Clovis Point is a wine lover's dream getaway. It has a tasting room where even the most inexperienced wine palate can enjoy a glass of red or white wine. Clovis Point has space for weddings, receptions, weekend getaways and a business conference where the focus may not be on wine, but that is where the conversation winds up.
The barn is the focal point for Clovis Point with a backyard patio and vineyard lawn. The patio is fully covered and can accommodate a large amount of guests plus your view is of the vineyard. The tasting room will have you feeling the warmth of the wine while you enjoy the view. The room has bluestone floors with mahogany doors and windows. It's a sight for the eyes on the inside and the view is great too. There is a VIP Room for a private wine tasting and parties.
Clovis Point has a wine club for its elite members and lovers of wine. The fee is free and you can the wine that you tasted and fell in love with delivered directly to your door. In addition, there are members only events, wine discounts, discounted wine tasting costs and notes that pair each wine with the perfect food. You can set across from the beauty of the vineyard, sip your wine of choice, and have pleasant and stimulating conversations all around.
At Clovis Point, you can enjoy a weekend destination or a yearly road trip. Maybe it is an anniversary or a girl's night out. You may even introduce your friends or finance to new wines at Clovis like the 2004 Merlot or the 2006 Chardonnay plus a list of others. Tip your glass in the right direction and fill it with red or white. You never know where the night will take you.
Seating Capacity

200

Business Events

Outdoor Area

On Site Ceremony

Valet Parking
For more details about amenities, please message the Venue.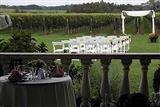 631-722-4222
Stats
13,799 views since Jul, 2014
Appears In
Share