Coral House


Imagine the perfect waterfront setting, and the most wonderful day possible. The Coral House overlooking Milburn Lake in Baldwin, Long Island, NY offers an exquisite location and every amenity for weddings, anniversary celebrations, corporate events and holidays. Coral House's lakefront setting is unrivaled, menus are custom designed to each party's taste and budget, and the service is unparalleled. Whether you're planning a wedding for several hundred guests, an intimate party for family and friends, or a business gathering, the Coral House on Long Island, NY will make your special event an occasion to remember for years to come.

Overlooking Milburn Lake, the Coral House offers a variety of scenic options for your event: outdoor lakeside setting, the rooftop terrace, our grand ballroom and other charming venues. From décor to dining, setting to service, every aspect of your event at the Coral House will be perfect, even the price.

Coral House is one of Nassau County Long Island's finest, most elegant, picturesque, waterfront wedding reception and catering/event facilities. Located in Baldwin, NY on Milburn lake, Coral House offers the best prices on wonderful, fine quality, picturesque water view catering services with great food for your next wedding reception, anniversary celebration, Bar Mitzvah, Bat Mitzvah, corporate event or party, in Nassau County, NY. Please call now for reservations if you would like your next wedding, party or event catered in the beautiful waterfront setting offered here at Coral House.
Seating Capacity

20 to 500

Price Range (per plate)

$65 to $125

Simultaneous Events

2

Business Events

Outdoor Area

Bridal Room

On Site Ceremony

Valet Parking

Kosher Menu

Dance Floor

Wheelchair Accessable

Coat Check

Live Music Permitted

DJ Permitted

AV Equipment Available

Air Conditioned

Kitchen On Premises

In-House Party Planner

Tables Chairs Included

In-House Party Planner

Separate Room for Cocktail Party
For more details about amenities, please message the Venue.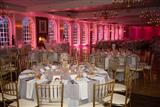 516-223-6500

516-223-6888

August, 2015
I planned my best friend's bridal shower here at Coral House. I went to a wedding there a few years ago, and thought of it immediately. The wedding was a blast. It's all a haze now since it was a while back, but I remember partying and having an amazing time, and I especially remembered that they serve delicious food. The bridal shower was awesome! They set a beautiful table for us outside. Perfect weather that day made for a lovely afternoon that went by way too fast! We were there for several hours, but it felt like several minutes. The food, as I recalled, was amazing. Better actually than I remember. I especially loved the dessert course, that was really good! What really made me happy was that they never rushed us while we were here. Like I said, it all blazed by in what felt like minutes anyway, but they gave us plenty of time and space, and they spaced out the courses nicely. We had plenty of room for all the gifts, and the bride-to-be had a wonderful time. She is my best friend ever since childhood, so it meant the world to me that I was able to give her such a great day. Coral House is the best!

July, 2015
I had my 60th birthday party here and it was a fantasy from beginning to the end. Everything was perfect and I am VERY fussy!!! I am a food snob and Orlando (head chef) out did himself. Everything from the delicious hors d'oeuvres (including salmon bites, coconut shrimp, stuffed mushrooms, mini beef Wellingtons, etc) to the ice cream bar, were all of exceptional quality. Everything on the buffet was moist , hot and fully stocked till my guests were full. Andrew, the maitre d' could not of been any better. He was on top of everything and every need. The view from the room overlooking the lake was beautiful, as was the way the room was decorated by Frank & Andrew. Linda set up everything, including all requests by me and they were all for-filled .This was a once in a lifetime splurge for me and I am sure glad that I picked the Coral House. Every day, one of my guests call or text me with such positive reviews of their experience that night. If you want to celebrate anything, do not hesitate, book it now, before your date is taken. This is the place were your dreams can and will come true!!!!!

March, 2015
We decided on this venue for our son's Bar Mitzvah last year, after he attended a friend's here earlier in the year. He loved it and had such a fun time, and was really amazed by the party, so it seemed like the easiest idea would be to just do the same for him here! It's a stylish venue, and we loved it the moment we saw it. We wanted our son to enjoy the very best on his special day, because he deserves it! Planning with Linda was very easy and also a lot of fun. This was such a big event and we had so many guests to invite that we were sure that the planning process here was going to be a mess, and it wasn't. Even with some of our guests flying in from out of town. Our son had some special requests based on the event he attended, and they had no problem accommodating them. They also had a lot of cool ideas of their own, which was really helpful to us, since this is our oldest child, and we never had planned a Mitzvah before and we were desperate to make sure that we got it right! The party really was incredible! Everything was so beautifully decorated; they were able to provide the décor and flowers and even this really cool chocolate fountain, which was delicious and a lot of fun for all the guests, kids and adults! The settings here are really quite something. I can't tell you how incredible the flowers are everywhere, indoors and outdoors! We loved the glowing fireplaces too; our son though those were super awesome! They had linens in all different colors. We were given a maitre d' who took care of everything on the day of the affair, and a wonderful hostess who greeted all of our guests. The wait staff were fun and enthusiastic, and made the whole event a wild success! The food was really good too! Great kosher chef! Everyone who works here is incredibly good at what they do. That's what makes this place amazing, even more than the beautiful flowers and the amazing ambiance. In short, this was the perfect choice for our son's Mitzvah. I'm really glad he attended his friend's earlier so that he could point us in the right direction right from the beginning. It made planning a lot easier, and so did Linda and the rest of the amazing staff here! The Coral House met and exceeded our expectations, and our son had a marvelous time, as did all of his friends and family. Thank you for going all-out for our son on his special day!
1 out of 1 found this review helpful

December, 2014
We knew that we wanted to have our wedding here right away. I'm not sure what it was that sealed the deal—just everything really! Maybe it was Linda, the manager, who we met right away at the very beginning, and who was so very kind to us. I didn't expect the manager to come right out to meet us when we hadn't yet signed anything or agreed to do our wedding here. Yet she found time for us immediately. Or maybe it was the beautiful gazebo and the lake views. So beautiful you can't imagine it until you get there! Whatever it was, our decision was a very easy one. There is a very romantic atmosphere to the Coral House. We loved the big glass windows, the beautiful lighting (which they completely let us customize), the décor, everything. They did such a wonderful job with our centerpiece, our cake, everything. We were happy to let them do everything for us. The wedding package was so reasonably priced and saved us so much money! If we had gone to a bunch of different vendors, we would have ended up paying so much more than we did, and I have a feeling we would not have been nearly as happy. With our wedding package, we got cocktail hour, dinner, dessert (including the wedding cake), flowers (which were absolutely stunning), linens, space for the ceremony (they gave us a lot of options there, and helped us arrange everything with our officiant), and a DJ. We had our own photographers and videographers come in. There were so many beautiful spots to pose for photos indoors and outside! We have so many gorgeous shots with the lakeside view. What was the very best thing we got with our wedding package though? Victoria! Victoria was our maitre'd. She was so very sweet and attentive, and she looked after both my husband and I the entire night. She did such an amazing job anticipating our needs! Whenever I found myself thirsty, there she was holding out a glass of water. When I got hungry, it seemed like just the moment she would show up handing me a snack, or directing me to eat at the reception. She saw to it that we both got to eat our fill at dinner. When I had a problem with my dress, she tracked down safety pins to help me fix it. Good thing too, cause I was totally freaking out! Oh yeah, so dinner – I would be really missing one of the key points if I didn't talk about the amazing food here. The cocktail hour was the best I've ever had, and I have been to several different weddings over the past few years, none of which remotely compared. The lobster tacos they have here are so good I am still thinking about them months later. You can't go wrong with the mac & cheese bites either. For the reception, they had a bunch of tables laid out with fruits, vegetables, cheeses and so on. There were a couple of stations for Asian food and barbecue. I've gotten really to love barbecue, and I know good BBQ when I find it, and they had amazing pork sliders here. And more mac & cheese :) I had a pasta dish for dinner too which I just loved. My husband had the "wild mushroom" dish and can't stop raving about it. He keeps trying to find a recipe for it and can't. Our wedding cake was really excellent. These beautifully decorated tiers, it was almost a pity to slice into it, but it was so good! I wish we could have eaten more, but I was stuffed from dinner—not something I expected on my wedding. We did stay in the bridal suite, which was lovely, and a great way to close off the evening without heading home. I'm glad we did it because that way the magic didn't have to end right after the reception was over. We were very sorry to wave goodbye to this wonderful establishment the next morning when we drove away. I did feel a lot like Cinderella, with my coach turning back into the proverbial pumpkin. It was a perfect night, and we will always remember how wonderful Victoria and Linda and everyone else were and how great they treated us.

April, 2014
We had the most delightful experience here. Linda was so helpful, and we loved every minute that we spent here on our special day! I wish we could do it again. Hopefully we will find another excuse to come back soon. I'm telling all my friends and family about this place!
Stats
14,506 views since Oct, 2012
Share