The Crescent Beach Club


The Crescent Beach Club is Long Island's only premier beachfront destination venue. We have been a leading Wedding and Private Events establishment for over 20 years, with our beautiful white sand beach, breathtaking views, and gourmet dining for that "once in a lifetime experience". Let us cater to your every desire and make your Wedding/Private Event a truly special day not only for you, but for each and every one of your invited guests. Have the destination party that you always dreamed of without ever leaving New York.

Whether your planning to host a wedding, an intimate party for family and friends, or a business gathering The Crescent Beach Club will make your special event a most memorable occasion for years to come.

Your event is our only event. A bright blue sky and a cool gentle breeze gives way to the most beautiful place imaginable to enjoy an event to remember. You and your guests will revel in tropical surroundings on a sun-filled deck, a most unique setting, to enjoy cocktails. The Grand Ballroom with its high ceilings, lush palm trees, beautiful crystal chandeliers, and an entire glass wall of doors and windows that leads out onto a spectacular deck overlooking the elegant Long Island Sound.

The Crescent Beach Club creates a world class culinary experience that is beyond extraordinary. Our menu's are custom designed for each parties tastes and budget and our service is unparalleled. Our attention to detail cannot be denied as we are known for our dedication to perfection. Put your trust in The Crescent Beach Club and allow us the opportunity to create a lifetime of memories that will not be soon forgotten. We encourage you to see for yourself. Come and visit our truly unique paradise. Your dreams are only a phone call away. Please call the Private Events Sales Office at 516-628-3000 or email us at privateevents@thecrescentbeachclub.com to set up an appointment.
Seating Capacity

400

Price Range (per plate)

From $75.00

Simultaneous Events

1

# Of Reception Rooms Available

1

On-Site Ceremony Location

Outdoor

Cocktail Party Location

Indoor & Outdoor

Business Events

Outdoor Area

Bridal Room

On Site Ceremony

Valet Parking

Off Premise Catering Available

Kosher Menu

Outdoor Area Garden

Outdoor Area Terrace

Outdoor Area Patio

Overnight Guest Accomodations

Dance Floor

Wheelchair Accessable

Coat Check

Live Music Permitted

DJ Permitted

AV Equipment Available

Must Use In House Liquor

Must Use In House Caterer

Air Conditioned

Kitchen On Premises

In-House Party Planner

Tables Chairs Included

Virtual Tour Available

Premium Liquor

In-house party planner

Separate Room for Cocktail Party
For more details about amenities, please message the Venue.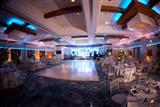 516-628-3000

516-628-3991

April, 2015
This is one of the most famous venues here, so it was the first one we thought of. We've seen lots of advertisements for them online. We knew we couldn't go wrong with the location. They're right on top of the beach and there's this amazing view. We made an appointment to check it out and meet the staff, and instantly loved working with Denise. She showed us a round the facility, and told us what it would be like to get married here. When she started telling us about all the options that we had, we were thrilled. They made it easy to customize our day, and gave us lots of ideas. They were more than happy to work with us on all the details we'd already figured out too. After working with Denise to get started, most of the work was handed over to Stacie and Matt, who were both so super friendly and competent! They were great coordinating with everyone on the staff as well as other vendors, including the ones we'd chosen. There were hundreds of decisions that had to be made, but they all went so smoothly with their help that it didn't feel like we were making so many! It just seemed like everything worked itself out so nicely. This kept our wedding from turning into this big mess where all we did was plan and plan. Instead of getting caught up in the planning, we were able to just enjoy and focus on each other. We both recommend this place wholeheartedly! They deserve their soaring reputation here. I still can't believe we got so lucky on our first try. No regrets!
1 out of 1 found this review helpful

December, 2014
When we came here, we were still on the fence about whether we wanted to get married here at home or do our wedding overseas somewhere. We both thought it'd be really cool to get married in Jamaica, but this was the venue that changed our minds! Denise met us when we arrived and took us on a tour of the venue. As she did, she painted a picture in our minds for what our wedding would be like. The way she described it, it just sounded so perfect, and every room she showed us was beautiful. That and the price tag made up our minds. It was going to cost way less to do our wedding here than it would to do it overseas, even though we still took our honeymoon in Jamaica. Doing the wedding here saved a ton of money for our guests on transportation, and considering how much work went into the planning here, I can only imagine how challenging it would've been to plan an overseas wedding in another country over the phone! We did do a lot of planning over the phone here, and Denise and Stacie made it really easy. But it was nice that when we needed to, we were able to drive up to discuss things in person. Plus we got to do the tasting to choose the foods (which was so much fun, especially since we didn't get to eat a lot on our wedding day), and we got to help with the decorations, walking around and telling them where we wanted the centerpiece and so on. We had a lot of fun with that part of the process! On the day of the wedding, I kind of expected things to run amok because the weather wasn't cooperating, but there was a solid plan B in place, and Stacie and Denise made sure that everything went smoothly under the circumstances. If we hadn't known better, we wouldn't have even realized that there'd been a change, and most of our guests were oblivious to it. That's how well they handled it. Which was just incredible, since I'd been really worried about hiccups and how they'd effect the timing and decorating and everything! Several times during the day I became a bundle of nerves. Stacie and Denise both saw to it that I stayed focused! They helped me calm down when I worried about something, and assured me again and again that they had everything under control. Several times they anticipated problems I hadn't foreseen at all. When I brought them up, they had already solved them. It was incredible. I can't get over how well the whole team worked together on everything. It really was very inspiring. The bottom line here is that this is a wonderful venue, and you will have a great time here, no matter what the weather does! This beach club was the next best thing to Jamaica; we really did feel like we were in a Caribbean setting, and it was so much easier and more fun to plan than it would have been if we'd decided to do the wedding in Jamaica for real. And you simply cannot beat the price tag. It is so incredibly reasonable. If you want a wedding on the beach, do this, especially if you want a tropical vibe. You will find exactly what you are looking for here.
1 out of 1 found this review helpful

November, 2014
We knew we wanted to be married on Long Island, and we knew we wanted to do it right on the beach if we could. That was all we knew going in; neither of us knew the first thing about wedding planning, and we didn't have a clue how the whole process worked. We made some appointments and hoped for the best. First two places we visited—disaster. We didn't understand anything they were telling us, and they were trying to sell us on stuff we didn't want. They thought that since we didn't know what we were doing, they could talk us into anything. Not the kind of attitude we were at all interested in dealing with! Then we came here. I am so glad it was the third place we came to and not the fourth or the fifth or the sixth. Because our search ended here, and thank goodness for that. Matt is the event manager here, and the first person we had a conversation with about our wedding. We did explain (cautiously) that we were confused about how everything works and a bit overwhelmed, and then told him what we were looking for and hoping for. He did not try to up-sell us! Instead of telling us a hundred things they could do, he asked us more questions to understand what we wanted to have happen. Only after we'd answered more questions did he start offering ideas and suggestions—and only after asking us what our budget was! Everything he recommended was at or below our budget, and he could recite numbers off the top of his head. It was such a great experience that we knew the rest would be too! We were very happy driving home that day, and very relieved too. We were confident that Matt would be able to take care of everything for us. The venue could provide almost everything we needed, and that meant we didn't have to keep driving around and calling around to different people to get what we needed. We had a lot of fun planning our menu and going to the food tasting. The cocktail hour and the wedding buffet were incredible! Our ceremony was right on the beach, like we'd hoped for, and we did the buffet at the restaurant. The deck area had lovely tables and a wonderful view of the ocean. I can't finish my review without mentioning Stacy! Stacy is simply an angel. She and her team were so efficient and accommodating we couldn't get over it. They were always checking in with both of us to make sure that everything was going great and that we didn't need anything. They were amazing at anticipating our needs, so we never had a moment where either of us felt lost or overly flustered. We could not have done it without her help. She is great at coordinating her team and she was so much fun! She's truly a diamond, and the beach club is so lucky to have her onboard. If a beachside wedding is what you dream of, and you want to experience the best customer service of your life, the beach club is where you want to be. You will not find nicer people anywhere. They will treat you with the utmost professionalism, and they will respect your plans and your budget. They will help you if you need ideas; they are wonderfully creative people. And most importantly, they will not pressure you to make changes or upgrades you are not comfortable with. They are there for you and want this to be the wedding that YOU dream about!
1 out of 1 found this review helpful

August, 2014
We were invited to a party at the Crescent Beach Club last year, so we knew we loved the place and that they were going to do a great job. Still, that didn't prepare us for just how impressed we were going to be! We felt like we had immediate rapport with our event planner, Stacie, and we also had a great time talking with Matt, the general manager. We immediately knew that we could trust them with our event. They were just so willing to work with us and seemed so totally flexible right off the top. This place only does one wedding at a time, so we had it all to ourselves. We had a beautiful ceremony and the party afterward was great! At no point did we feel like our event wasn't in the best hands, even when unexpected changes came up. Everything went smoothly and we didn't have to worry about anything. We just got to have a great time!
1 out of 1 found this review helpful

May, 2014
We had so much fun!!! The location is beautiful! The food is great, the staff is phenomenal!
0 out of 1 found this review helpful
Stats
26,759 views since Jan, 2011
Share