Hilton Long Island - Huntington


Create your one of a kind affair at the Hilton, Long Island's premier catering facility. Conveniently located in Huntington, the newly-renovated hotel is the perfect setting for an eloquent wedding. Just one mile south of the Long Island Expressway and New York Interstate 495, it offers easy access to the Hamptons, Jones Beach and New York City.
The elegant Grand Ballroom offers 10,000 square feet space and the Savoy Room with its nightclub atmosphere seats up to 1,000 people; the Atrium Lobby features a beautiful cascading waterfall. Combining the excitement of New York with the elegance of the Gold Coast, it offers 302 luxurious rooms with special rates for your out-of-town guests. They'll enjoy amenities like heated indoor swimming pool, high-speed Internet access, premium cable television, complimentary weekday morning newspaper and phone with private voicemail. There are a number of attractions nearby– the hotel is just minutes away from beautiful, white sand beaches, public golf courses, horseback riding and Adventure Land.
Hilton's wedding packages include:
Deluxe open bar
Complementary suite and champagne for the bride and groom
Complementary rooms for the parents of the newlyweds
Choice of linens and chair covers
Flower arrangements
Valet parking
Coat attendant
Ice sculpture
Shuttle service
Professional wedding consultant
Skilled staff will help you customize every aspect of your affair in order to fit your requirements and budget. An award winning culinary team will prepare sumptuous cuisine for your cocktail hour and dinner reception, including butler passed hors d'oeuvres, three stations with uniformed chefs, four course dinner and a custom created tiered wedding cake. The hotel is able to accommodate ceremonies of all sizes. Have your rehearsal dinner or post wedding brunch in one of their spectacular private banquet rooms.
The Hilton hotel has been serving the Long Island community for more than twenty years with dedication and personalized attention to every detail. They are committed to making your dreams come true — with endless venue options, impeccable service and highly experienced professionals.
Seating Capacity

12 to 1000

Price Range (per plate)

$33 to $115

Simultaneous Events

2

# Of Reception Rooms Available

17

Business Events

Outdoor Area

Bridal Room

On Site Ceremony

Valet Parking

Off Premise Catering Available

Kosher Menu

Outdoor Area Garden

Outdoor Area Terrace

Outdoor Area Patio

Overnight Guest Accomodations

Dance Floor

Wheelchair Accessable

Coat Check

Live Music Permitted

DJ Permitted

AV Equipment Available

Must Use In House Liquor

Must Use In House Caterer

Air Conditioned

Kitchen On Premises

In-House Party Planner

Tables Chairs Included

Virtual Tour Available

Premium Liquor

In-house party planner

Separate Room for Cocktail Party
For more details about amenities, please message the Venue.
Q: What sort of different event packages do you offer?
A: We are delighted to offer a variety of packages for all your social events- Christenings, Communions, Milestone Birthday Parties, Bar/Bat Mitzvah, Engagement Parties, Rehearsal Dinners, Wedding Receptions, Reunions, Retirement, Fashion Shows and Association Luncheons and Dinners to name a few. Because of our flexible meeting space and in-house catering capabilities we can customize our packages to your specific needs.
Q: What is your minimum and maximum capacity for an event?
A: Our elegantly appointed event space can accommodate events from 25 to 900 guests.
Q: What is it that makes your establishment and location perfect for an event?
A: We are located at the cross roads of Long Island. We are approximately 20 minutes from three area airports and minutes from three major roadways. Our professional, experienced and hospitable staff delights in assisting to create a wonderful experience for you and your guests. If you're looking for a venue with great service, quality food and a great setting; then the Hilton Long Island is the perfect location.
Q: How far in advance should someone interested in using your facility book it?
A: The Hilton Long Island prides itself on providing premier service and accommodations to social and corporate guests. We encourage guests to contact us early to discuss availability.
Q: What type of entertainment accommodations do you offer?
A: Available amenities for overnight guests include use of the indoor/outdoor pool facility, tennis courts, game room, 24 hour fitness center, saunas and Jacuzzi. Other amenities on the hotel include in-room dining service from 7:00am – 11:00 pm, Watercolors Restaurant for breakfast and lunch and dinner served in our FUSE Restaurant. Our FUSE Bar is open until 2:00am on Friday and Saturday and until 12:00am Sunday through Thursday.
Q: How many events can you have going on in a single day or concurrently?
A: Due to the large capacity of the hotel, over 24,000 square feet, more than one event may occur on the same day at the same time. In order to provide the best service to our guests, highly trained members of our staff will be assigned to your specific event.
Q: What is your typical staff to guest ratio?
A: Typically buffet-style meals require less staffing. The ratio is generally one staff per thirty (30) guests plus table runners. For our plated options, we generally provide a much lower ratio, approximately one staff member for every 15-20 guests.
Q: What can you tell us about accepted payment methods, deposits, or payment plans?
A: The Hotel accepts major credit cards such as AMEX, VISA, Discover, and MasterCard. Payment is also acceptable in the form of cashier or bank check, cash. Upon signature of the contract with the Hilton Long Island a deposit of approximately 25% is due. (Please note that contracts that are signed closer to the event date may require a larger deposit or full payment). Payment requirements will be specifically outlined in your contract with final payment due 5-7 business days prior to the event.
Q: Are there incentives for using your house vendors, and what can you tell us about your house vendors?
A: Our preferred vendors are experienced professionals that are familiar with the layout and staff of the Hilton Long Island. Mention that you are booking at the Hilton Long Island to receive their best pricing.
Q: Do you offer tastings or host any showcases?
A: The Hilton Long Island is proud to host several showcases including the Metro Expo, LI Weddings.com showcase, and the Ort Showcase.
Q: Can you tell us about some of the special events that your facility has held?
A: Some of the Special events held at the Hilton include the BLI Baby Shower and Wedding Showcase, the Indian Association Festival and a variety of fundraising events.
Q: Is there anything else that you would like to tell us about your facility?
A: The Hilton Long Island provides the perfect backdrop for your contemporary or traditional affair. We provide superb onsite catering; with the flexibility to cater to various dietary needs and personal requests. Our exceptional attention to detail, our years of experience and our hospitality ensure that your occasion will be a wonderful and memorable occasion.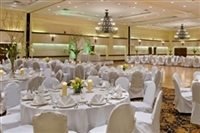 631-845-1000

631-845-1223

November, 2014
I wasn't sure initially about visiting this venue, but my man talked me into it. The wedding and event reviews we saw were great, but the general reviews for the hotel were not so hot, and we were looking for a place where we could have the wedding and stay for a few nights and spend more time with our friends and family before heading off on our honeymoon. Most of our guests were local but not everyone, and it seemed like the best way to do things, do the wedding at a hotel. Like I said, I wasn't sure what I should expect because of the mixed reviews, but so happy that I got pulled in this direction. The other hotels we had gotten in touch with were not so accommodating as these people, even though some of them had higher reviews! Here the event manager was incredible. I explained some of my concerns and he assured us we could get a full tour of the facilities including the hotel. He let us pick exactly which rooms we wanted to book for our wedding party. Here's what we loved about this venue: • Incredible service! This is #1. The entire staff was awesome, everyone from our event manager down to the housekeeping staff really went above and beyond here! • The ballroom is very elegant. It's an absolutely beautiful atmosphere and very warm and inviting. • They do all-inclusive packages here that are just outstanding. The one we got included a band, flowers, a photographer and videographer service, everything. And it was all great! • Great at last minute changes! We had some guests who needed to make scheduling changes and had so me requests about moving around rooms and stuff, and they were great handling this stuff. • Wonderful accommodating all our menu requests. • The hotel rooms are comfortable, beautifully furnished, and immaculately clean! • No other wedding party the day we got married. What didn't we like? At times it all felt really hectic, but I don't think that could be avoided. Even though we were the only event that day, there were still other guests at the hotel, and it's a big hotel. So you don't really have the place all to yourself. Aside from that, it was perfect!

September, 2014
We're not from around here. We're actually from central Jersey. Long Island is one of our favorite places, and it seemed like the perfect choice for our wedding. Not too far for anyone to travel, but somewhere special where we'd feel like we were getting away from the ordinary a bit. We knew we wanted to do the wedding at a hotel and keep things simple. So it was just a matter of going through the different options and choosing the hotel that could do the most for us. The Hilton offered a full wedding package with food, drinks, music, décor, flowers, even a bridal suite and accommodations for everybody else! We were only able to travel several times to plan locally with the staff; we had to do the rest over the phone, which had us feeling pretty anxious at the beginning. We were quickly reassured though. The staff were amazing and came through on everything. Even over the phone we felt like we were getting incredibly personal service. Everything was coordinated beautifully with all the different vendors they brought in. We asked for some last minute changes when we thought there'd been a miscommunication, and they didn't blame us or complain; they made the changes we asked for, and everything was just perfect for us on our big day. We stayed in the hotel for the honeymoon, and a lot of our guests hung around for a few days and nights as well to check out the area and have fun with us. We all had a wonderful time! A great all-in-one choice if you need somewhere to stay and celebrate!

July, 2014
Their wedding package had everything we were looking for. The event was perfect, and we loved the bridal suite. The care and attention that the staff put into everything was really incredible. It was really hard to choose a venue, but we could not have asked for more.
Stats
26,082 views since Nov, 2010
Share