Inn at Fox Hollow


Long Island's most luxurious all-suite, boutique hotel. Located in Woodbury, Long Island (New York) in the heart of the Gold Coast, The Inn offers unparalleled comfort, superior amenities, complimentary services and dynamic hospitality.

The Inn At Fox Hollow offers elegantly appointed meeting rooms that can accommodate up to 65 guests. Each room is equipped with state-of-the-art audio/visual capabilities, a 37? flat screen TV, electronic screen, hardwired & wireless internet access and ipod/iphone speaker system.

The Stratford Room is a permanent executive boardroom and is perfect for intimate corporate events. The Fox Hunt Room is the largest room available at our luxury Long Island hotel in NY and is perfect for both corporate and social events. The Inn offers a variety of menu options to choose from. All of the Inn's banquet and catering services are served buffet-style. Scotto Brothers award-winning Chefs prepare all of the food and the Inn's professional banquet staff attends to every event to ensure its success.
Seating Capacity

65

Business Events

Outdoor Area

Bridal Room

Off Premise Catering Available
For more details about amenities, please message the Venue.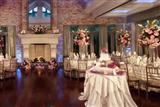 800-291-8090

516-224-8200

August, 2015
It was up to me to plan my little sister's bridal shower. It was the first time I ever had to plan a big event, and I was totally overwhelmed going into it! I didn't know where to start, or what I needed to do. I'd never even been to a bridal shower before, and now I had to plan one myself. I was so nervous to get everything right for her, so I did a ton of reading online to get some ideas, and then I started asking around to see if anyone could point me in the right direction. I got a lot of suggestions. One of them, the one I ended up with, was coming here to this really incredible boutique hotel! They offered a tea party-styled bridal shower in the courtyard. My sister always liked stuff like that. She's a big fan of British movies and stuff, and she's always wanted to visit England, so a tea party seemed like exactly her kind of thing. I got really excited reading about it on the website, so I booked! The experience was lovely! They seated us out in their garden courtyard, which was incredibly beautiful, and it was the perfect day for it too, lovely weather. They started out with some cheese and grapes and some kind of English crackers. We then had sandwiches (they let me choose four). Sis had some kind of cucumber one with dill which sounded positively odd to me, but I ordered it because I knew it was just *so* British and she would go for it, and she did! We then got to drink teas and eat scones. We were able to order mimosas too. Best mimosa I ever had actually. It was a wonderful experience, and exactly the right thing for my sister, who kept squealing with delight. She had never had a British high tea before, and never thought she would. Who would think you'd find something like this right here at home? She kept hugging me and thanking me, and weeks later, she's still calling me on the phone to tell me again how great it was. I am so glad I was able to make her so happy. She deserves it!

August, 2015
This is such a special place. Are you looking for somewhere truly beautiful for your wedding, a place like no other? Fox Hollow is a little slice of paradise transplanted into the heart of Long Island. It's completely romantic! You will not believe your eyes when you see how beautiful the gardens are, and what we really could not get over were how amazing the accommodations were! We stayed here for our honeymoon after we realized we couldn't afford to travel. You know what? I'm glad we stayed right here! The honeymoon suite … I still can't get over how beautiful it was! And the incredible staff, they treated us like VIP guests the entire time. They knew what a special time in our lives this was, and they did everything they possibly could to make it as special as possible. We love Fox Hollow. We will never forget the magical time that we spent here.

August, 2015
What bride doesn't want to be showered in luxury on her special day? We didn't want to settle for "just another catering hall" for our wedding. We wanted our wedding to be the special event that it deserved to be. A wedding is always special, but the ceremony, the party, they needed to reflect that, and that meant we had to find a special place. That place ended up being the Inn at Fox Hollow. Fox Hollow is just amazing. It's a very big hotel, but you always feel like you're at a small bed and breakfast. It's because they treat you so personally, and they make you feel like you are their VIP guest, or like you are their only guest. We were the only wedding party, which was great. But the thing was, they made us feel like we were their only party all year or something. What I mean is that they showed us that kind of commitment and respect when they were working with us on all of our plans. It was like they were always there at the drop of a hat for us, to answer our questions, to make a special request happen, even just to reassure me about a concern I had. I never had to wait long for answers. I never was stuck without information, and never felt like I didn't know what the next step was. When you get married here, you get that personal attention, and you also have so many options for personalizing your wedding! There were a number of different spaces we could choose for our ceremony and for the reception, and all of them were just breathtaking. They had a range of packages too, so we could pick something that was right for us. Mike, you were so great the whole time with us! I am sure we were frustrating at times because we were always so full of questions and concerns and uncertainties. I feel like I was probably a real handful. But the way you handled things, you never seemed stressed or confused by anything we asked for, and nothing ever seemed to catch you off guard. You were always on top of everything and usually five steps ahead of me. When we first decided not to go with "just another catering hall," our first thought was about scenery and ambiance. But there were so many other ways in which that decision paid off unexpectedly. I know we never would have been able to work with anyone like Mike at some budget place, and we never would have enjoyed the kind of VIP treatment we got form all the staff. This was just an incredibly special experience, and our wedding was all that we had ever dreamed it would be, and more. We are very happy that we went with this decision. Fox Hollow is totally worth it. I would just love to do it all again. If you are planning your wedding now, I'm jealous of you! Don't even wait. Call and ask for Mike, and you will have a spectacular day!

May, 2015
Ask someone to list luxury hotels around here, and most people will name the Inn at Fox Hollow pretty high on the list. We'd never been here before our tour, but we had heard of it more than once. We always were curious about it, but we never really had an excuse to check it out until it was time to plan our wedding. When we did, we loved it immediately! And I cannot describe in words how perfect and exquisite our wedding was! But I will try. I will tell you everything I can about it. I know that if you're reading this, you are seriously thinking about getting married here … and you should do it! Fox Hollow is a boutique hotel, but don't let that fool you into thinking it's small. It's a big place, and there are a lot of different rooms and environments where you can get married. I loved that they offered us a choice! You can get married in the garden or the chapel (we went with the garden, with the chapel as a backup in case the weather was bad, which it wasn't. If we'd had to get married in the chapel though, I wouldn't have minded. It is truly lovely). You can enjoy your reception in the Somerley, Garden Terrace or Witner Garden Pavilion. All of them are enchanting, but we chose the Winter Garden Pavilion. It was the perfect size for our party, and it had everything! A gorgeous dance floor, lots of beautiful sparkling chandeliers glittering overhead, and they set up candles on our wedding night. There is a waterfall inside, and we could see the stars through the skylights overhead. Now, I wouldn't call this a garden really, but there is some greenery, some vines draping around the edges of the room, which adds a nice touch. But mostly it's wood and windows, with a huge, open feel. Not at all gaudy, which was something I wanted to avoid. It probably would have looked a little basic without our flowers and decorations, but the flowers added the color that we were looking for. And at night, it was really lovely with the stars shining in from above! The staff were all wonderful. We loved working with Mike, the operations manager. It was terrific he worked so much with us in person. He didn't delegate much at all in the beginning. He wanted to be there for us in the early stages to make sure that everything was going to work out. He was able to OK everything, because he was the manager! So he made it so easy! I also want to mention Megan, my bridal attendant, who was excellent. She made sure I never was without a drink or a bite to eat or anything else that I wanted. She also made sure I was bussled! She was great looking after my husband as well. She was so busy that I imagine her job is actually pretty stressful, but you wouldn't know it with her great attitude. She did everything with alacrity, and she was so nice about all my little requests. She was the one soothing my nerves! She made her job look fun and like something that was a genuine joy, not a lot of stress! That in turn helped me feel less stressed! We didn't stay at the hotel, but I almost wish we had, because it was so beautiful and such a wonderful place to be. We had tickets booked for our honeymoon though and we needed to be on our way. Our plan is to come back and book out a room for our anniversary in a year and stay a few days and celebrate. I've heard that the restaurant here is great, which I believe with how amazing the catering was! We had such a wonderful time. We both miss this place and its terrific staff. I wish I could express what a beautiful, perfect time we had, but words are always going to fall short. All I can tell you is … if you are thinking about getting married at Fox Hollow … do it! Don't look any further! All we did with other venues was waste time. This place is perfection, and you will love it just as much as we did!

August, 2014
Our wedding here was outstanding. This is a beautiful place with a strong reputation—with hundreds of glowing testimonials it seemed well worth a visit. We loved the Somerley reception hall with all the brick and wood and those beautiful rafters and the light coming in from above. Just gorgeous. It looks kind of old-fashioned but modern at the same time, and has sort of an English flair to it. It's just what we were going for with our wedding—traditional but with some modern elements to it. The garden area was amazing too with the fountain and the lovely little gazebo. When we first saw the garden, we looked at each other and we were both so excited! We went to talk to someone about our wedding and encountered some of the best service I think we've ever had anywhere, period. They were happy to show us around and tell us our options for the ceremony and the reception, and we got into planning right away. My bridal attendant was great and the food was spectacular. This place was a perfect fit for us in every way. 5 out of 5 stars on everything!
Stats
13,497 views since Sep, 2010
Share