Jamesport Vineyards


Wine can bring together old friends, help make new friends, start a relationship, or toast to two people who have decided to live their lives together forever. At the Jamesport Vineyards, they offer all of these experiences with their wine as the centerpiece. Whether it is wine tasting, a tour through the vineyard or stimulating conversation over a glass of red or white Jamesport has something for everyone.
A wedding with views of the vineyard and a rustic feel are undoubtedly, what you can expect at the Jamesport Vineyards. There is lodging nearby for your bridal party and guests. In addition, you can return each year to celebrate your anniversary, take in a wine tasting or two, enjoy a tour, and become a member of their wine club so that your wedding day wine can be delivered at a discount.
Your wine tasting can include flights and glasses of wine. Maybe you want to purchase a bottle and share it with friends as you take in the scenery. Jamesport offers that too. The vineyard has live music every Saturday, food offered in the tasting room to compliment wine such as cheeses and meats, a raw bar on the weekend and a big backyard for families with children and your dog too.
The tasting room has a large lawn for all types of events. Birthday parties, private events, and even business meetings can be held at Jamesport. The winery is available too. Your trip to Jamesport has to end sometime, but that does not mean that the wine stays there. Several local retail establishments and restaurants in the area sell and serve the wine or you can become a member and have it delivered directly to your front door.
Jamesport Vineyards is your destination to relaxation, flavorful combinations, and stimulating conversation.
Seating Capacity

150

Business Events

Outdoor Area

On Site Ceremony
For more details about amenities, please message the Venue.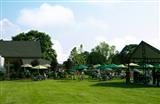 631-722-5256

631-722-5256

December, 2014
We contacted Laura to ask her if we could have a small wedding party here. We were expecting to be turned down because it was such a small group, and were happily surprised when we got a resounding "yes" instead! She told us we could have our party in the cellar. We weren't sure what to think of that until we saw it, and then we loved it. A really nice ambiance down there with the barrels. Rustic long tables, beautiful lighting, a very nice place even if it technically, well, a cellar. IT actually made much more sense than some of the other locations we'd looked at (many of which could not take our party anyway). We weren't all spread out with a lot of space we didn't know what to do with. The wine cellar was just the right size. The outdoor areas here are beautiful too and we all had a lot of fun exploring the grounds. The only thing that you should be aware of is that even with a small party, the fee to rent this place is pretty hefty. We were the only party though, which was really great. It so was nice and quiet outdoors! Very peaceful. And our photos came out beautifully.
Stats
8,773 views since Feb, 2010
Share