Koenig's Caterers


The family-owned and operated Koenig's was established over 60 years ago, maintaining a tradition of perfection and excellence throughout the decades. The facility can accommodate up to 250 guests. With yours as the only affair you can be sure that even the smallest detail will be taken care of. Enjoy fine European and German-influenced cuisine and impeccable service. Accommodations for your out of town guests are available nearby.

The magnificent banquet room is adorned by crystal chandeliers, red carpets and beautiful floral arrangements. It features a wooden dance floor, etched mirrors and a private elevator. Soft hues make for an incredibly romantic atmosphere. A bridal suite is available for your bridal party. A new private party room provides the perfect setting for an intimate gathering, featuring mahogany wood accents, original paintings and a fireplace.

A professional event coordinator is there to guide you every step of the way. Highly trained staff will attend to your every need. You and your guests will enjoy mouthwatering meals and ample portions. Your cocktail hour includes a variety of stations like pasta and carving, chafing dishes, artistically presented cold displays and assortment of fresh fruits. Your dinner reception includes the traditional champagne toast, appetizers and salads, your choice of entrées like Jumbo Shrimp Scampi, Swordfish Steak and Roast Prime Rib among many others, and your beautifully decorated custom tiered wedding cake, served with coffee and tea. Unlimited premium brand liquor is served throughout the entire affair. You get all this and more at a surprisingly affordable price.

The same attention to detail and quality service of Koenig's restaurant has now been extended to their new party and banquet rooms. Elegant decor, well-appointed rooms and exceptional service will make your affair one to remember. The Daily News recognized this establishment for its delicious food and comfortable settings.
Seating Capacity

250

Price Range (per plate)

$40 to $80

Simultaneous Events

1

Business Events

Outdoor Area

Bridal Room

On Site Ceremony

Off Premise Catering Available

Kosher Menu

Outdoor Area Garden

Outdoor Area Terrace

Outdoor Area Patio

Overnight Guest Accomodations

Dance Floor

Wheelchair Accessable

Coat Check

Live Music Permitted

DJ Permitted

AV Equipment Available

Must Use In House Liquor

Must Use In House Caterer

Air Conditioned

Kitchen On Premises

In-House Party Planner

Tables Chairs Included

Virtual Tour Available

Premium Liquor

On-site party planner

Separate Room for Cocktail Party
For more details about amenities, please message the Venue.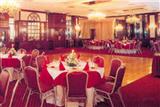 516-354-2300

516-354-3395

June, 2015
We searched and searched, and finally found this place for our party. We had never eaten here before, so it was a bit of a shot in the dark, but at least two people had recommended it to us, and we were really impressed when we talked to the banquet manager on the phone about what we wanted to do. We liked that they keep everything simple here and make it easy to plan your party. A few other places we called up managed to overwhelm us just talking on the phone! This place doesn't have a ton of bells and whistles, but you don't always need or want that. They just had a simple dinner menu where you could choose one of a couple of plans. We were allowed to ask for modifications, but otherwise the menu was set and that was that. That was so much easier than "pick 3 off this list and 2 off that, but if you choose X you must also choose Y and cannot choose Z." It just seemed like it was overly complicated. I didn't want complicated, I just wanted good food. Not to mention, I wanted affordable food. This place is an excellent deal for what you are getting. Their party rooms are beautiful! They also showed us the banquet hall, though that was bigger than what we needed for our little gathering. We went with the slightly more expensive dinner menu, because the price difference really was not that high, and we didn't have a huge number of guests. This gave us some extra appetizers, dinners, and desserts. The less expensive menu didn't have wiener schnitzel or ragout. They also added cheesecake to the dessert menu, which was well worth it. Definitely some of the best cheesecake I've had in quite a while. Couldn't have gone without the schnitzel either. I could not get over how tender it was. And they got the breading just perfect. In short, this was a great way to discover what has turned out to be our new favorite restaurant. I'm glad that we got a couple of people suggesting it to us, or I think we probably would have overlooked it, and that would have been quite a tragedy. We've been back since a couple of times for dinner and it has been great. The food at the party really was extra-delicious though. Everyone had a great time and loved every bite!

November, 2014
This restaurant has been around for ages. When you step inside, you will feel like you've traveled back in time several decades, and no, that's not necessarily a negative. The old-fashioned décor has a kind of charm to it, and the service is incredible. That too is old-fashioned. What I mean is, you just don't see it anymore, that kind of really personal, warm, professional service! This place is like an old gemstone that stays polished no matter how much time passes by. Eating here is like visiting your German grandparent's house and being welcomed like family. The cuisine is authentic. None of that Americanized modern stuff you get at most German restaurants! This food could be straight out of the homeland. So it was just a given that we'd have our wedding reception here. We just managed to get in under the catering limit, and there was no way we weren't going to enjoy our favorite food in the county on our wedding day! It was effortless selecting what we wanted to order for the entrees and the sides, because we have eaten here so many times we already knew all the best choices! What a treat for our guests; a lot of them had never eaten here before (and more than a few had never really had authentic German cuisine before). This was a great experience for everyone in our party, and especially of course for us! Needless to say, dessert was also incredible. They did an imaginative job on our cake, and we loved it! Can't wait to come back here for another party to celebrate our anniversary!

October, 2014
We had our actual wedding at a church, so we were just looking for a banquet room for the reception afterward that would have a dance floor, room for all our guests (just over 200), plus amazing food. My husband's family is German, and a lot of them love German food, so it seemed like a great idea to go with Koenig's since they do German cuisine! The banquet room is really beautiful. Wood paneling on the walls and the floors, red carpeting and chairs, warm light from the chandeliers overhead, and a spacious feeling—even when the place is packed full of people. They only do a single event at a time, so no crowds from other peoples' parties rushing around, and the staff is 100% dedicated to your event. This was a biggie for us, and would have been a make or break criteria for any banquet hall. We've been to places where they do more than one event at a time and it is always chaos. We also chose them for their location. They are in a good spot with a lot of hotels nearby, so our guests didn't have to go far to get to the party from their rooms. For the dinner, of course we wanted German food! We went for the jaeger schnitzel. They make it with the onions, bacon and mushrooms and that wine sauce, and it is yummy!!! Also went with the German pot roast with those amazing potato dumplings. Can't remember everything else we chose, but it was all really really delicious. They had all sorts of coffee afterward, and it was just right—not bitter, very fresh. The wedding cake was something they handled as well, and it was gorgeous!!! It was this towering, tiered thing. Looking at it we were amazed it could balance! It looked almost delicate. Tasted scrumptious! We had so much fun here! The staff made it all happen. They were great, and everyone had a wonderful time, so thanks from our entire wedding party!

May, 2014
We love German food, so this place was a natural choice for our event. We'd never eaten there before, and we were thrilled with the authenticity! Much better than a lot of the Americanized German food we've had elsewhere in the area. The ambiance is lovely. I can see why these people have been around for so long.
Stats
20,916 views since Feb, 2010
Share