Long Island Maritime Museum
Long Island Maritime Museum


A unique setting for the unique couple

The Long Island Maritime Museum is a special place to tie the knot. With its tranquil waterfront setting on the Great South Bay, we offer a warm and casually elegant locale unlike any other. Situated on 14 acres and nestled between several historic buildings, the museum offers spectacular sunset view of the bay. Accessible by boat, couples will create everlasting memories if they choose to arrive via our historic sailing vessel, Priscilla.

A photographer's dream, the Long Island Maritime Museum is an imaginative choice and offers interest and style for outdoor wedding ceremonies, receptions and other special events.
Business Events

Outdoor Area

On Site Ceremony
For more details about amenities, please message the Venue.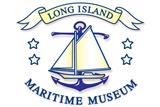 631-319-0199

March, 2015
We worked with Kathleen to plan our maritime wedding! Me and my husband are both majorly into ships and stuff. He's built a ton of model ships, and has them all on display at home. We have been out on a number of cruises before, and we're hoping to start learning how to sail soon. Anyway, the point is, if you love boats, and you love the sea, you should totally get married here, because it's just the most awesome way to tie the knot with nautical style! We'd never been here until it was time to plan our wedding. We actually didn't know the place existed! Turned out we've been missing out on a lot of awesome exhibits. We found out about it while we were browsing through a list of possible venues. When we saw it, we both looked at each other and were like, "Maritime museum! How awesome is that?" We loved it from the moment we set foot inside. We talked to Kathleen about our wedding right away, but we ended up spending the rest of the day just looking at the exhibits afterward! There was so much to see and learn, and it was really fascinating! Kathleen was great showing us around, and I could tell that she's really into her job working here. The museum made the perfect setting for our wedding. It was a really atmospheric place to get married and to celebrate, and we had fun snapping pictures next to all the boats and exhibits. The grounds are beautiful, and of course offer a great view of the water. They helped us set up catering and everything too, which made things a lot easier. I was surprised at just how simple the process was really. I mean, I wouldn't think that they would get a ton of wedding requests here, just being as their main purpose is to showcase exhibits, not to host events, but the way they handled our wedding, I'd have thought that was their main business. They definitely seemed like they had a ton of experience. It was very fun, and definitely the most unique wedding I've ever been to. I'm so glad we found a way to celebrate that actually incorporated our personalities and our interests, and wasn't just like every other wedding in the world. Our guests had a great time too and said they really enjoyed being able to do something different. We loved every minute, and we love coming back here to see the new exhibits and remember our special day!

July, 2014
You can get married aboard a boat! it is the coolest thing ever. We wanted to do something excited for our wedding, and this was definitely exciting! We had a small party so it worked out perfectly. It was an amazing experience, and we will remember it forever and ever!

May, 2014
One of the reasons we moved to Long Island was because of the ocean! Both me and hubby are really into everything nautical, so when it was time to tie the knot, we were thrilled when we found out about this place and the fact that they do weddings and events! Kathleen was very sweet and always fast to answer our questions. She got us set up with everything we could have wanted, and we had the wedding celebration of our dreams.
Stats
7,639 views since Dec, 2012
Share