Sand Castle


Sand Castle Caterers proudly boasts hosting only one affair at a time in their grand 50,000 square foot facility. Guests, as well as Guests of Honor, will relish the privacy provided to them, as well as in the personal and dedicated attention they will receive by Sand Castle Caterers' experienced staff.

Guests will first be impressed by Sand Castle Caterers' magnificent grand foyer, which features a uniformed doorman to welcome your guests, three fireplaces, European marble, brass accents and mahogany details. The outdoor gardens will only further impress your guests whether you use it as a backdrop for a ceremony, photographs, cocktail hour, or simply just as a majestic view.

Maybe an outdoor cocktail hour doesn't exactly suit your or your guests' needs and desires. No problem, why not try on the skylight cocktail room on for size? Guests will surely delight in the seafood sailboat center attraction that features unlimited sushi and chilled seafood assortment.

Other features of your "myth" turned reality wedding extravaganza includes a seven hour affair, a live pianist, a newly added veranda that goes into their beautiful gardens with pond and bridge and a hospitality lounge that is available one hour prior to your event that would include an open bar, hors d'ouvres, strawberries and champagne.

Perhaps the most exciting, unique and romantic reason why Sand Castle Caterers is ideal for your next event is that a honeymoon in Greece is included in your package!

Schedule a tour today to see exactly what Sand Castle Caterers can offer you and your loved ones. You'll be glad you did.
Seating Capacity

125 to 450

Simultaneous Events

1

Business Events

Outdoor Area

Bridal Room

On Site Ceremony

Valet Parking

Kosher Menu

Outdoor Area Garden

Outdoor Area Terrace

Outdoor Area Patio

Dance Floor

Wheelchair Accessable

Coat Check

Live Music Permitted

DJ Permitted

Air Conditioned

Kitchen On Premises

In-House Party Planner

Tables Chairs Included

Premium Liquor

On-site party planner

Separate Room for Cocktail Party
For more details about amenities, please message the Venue.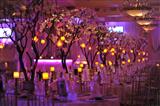 516-354-7263

516-354-7274

June, 2015
We looked at so many beautiful spots before we decided to get married here. We were making our decision largely based off of ambiance. We didn't want that cheap-catering-hall look, and that is everywhere! We wanted something that felt really sophisticated and upscale, and had beautiful gardens. We also wanted to make sure we'd be the only couple that day, and of course that we would be working with fantastic people. Couldn't have lucked out more with that last bit, as you'll soon see. Well, you are not going to find a more beautiful, sophisticated, upscale vibe anywhere! I fell in love from the moment I saw the gorgeous foyer. Marble floor, mahogany walls, elegant drapes, and three fireplaces! Outdoors they have a lovely garden and a beautiful atrium. I liked that the atrium combined outdoors and indoors. There was a roof which kept some of the sun off so it wouldn't be so bright, but all around, beautiful greenery. They have a lot of palm trees and tropical plants out in the garden, so you get a very lush feel. My bridal suite was like a room in a palace and had a mini bar all sorts of cool amenities! They also have the most amazing veranda where you can have your cocktail hour. The landscaping is gorgeous and they have a beautiful waterfall. The ballroom was the least remarkable part to me; one ballroom looks just about the same as the next, but it was still beautiful! One thing I really like about Sand Castle is the fact that they don't have that floral wallpaper and carpeting you see at all the country clubs. That look is all very nice in its own way, but it just wasn't a good fit for our personalities at all, and this was just so much better for us. Pretty big deal, not just for having a perfect day, but for all the photos! Loula helped us get all set up with everything we needed when we first visited. First we talked costs (which are awesome), and then she started showing us around (all after greeting us with a big smile). She had a ton of recommendations for music, photos, flowers, and even hotels for our guests flying in. She had a couple of limo companies to recommend, but we went with Sand Castle's own Rolls Royce instead, which was really cool, especially for my husband, who is a huge Rolls Royce fan. For hotel accommodations, we picked Allegria. We didn't stay, but everyone who came to see us said that it was really wonderful and that the hotel was as amazing as the wedding venue in terms of ambiance, which was really great to hear! Loula not only helped us out with all of that, but she even got us in touch with a company that did beautiful invitations for us, and she helped me find a hairstylist and even gave me some suggestions for where I could shop for my wedding dress! In fact, I actually ended up finding my dress at one of the stores she recommended, after wasting a lot of time at other shops not finding anything in my style and size. I imagine that a lot of brides have told her where they shopped over the years! I hadn't heard of the store where I ended up buying my gown, so if she hadn't told me, I would have missed it! We didn't have an officiant in mind for our ceremony either, and she took care of that too. The reverend was amazing and the perfect choice for us. Loula was great, but she wasn't the only one. On our wedding day, Mohamed, Diego, Lukas, Gary, and Joanna were all terrific. Every one of them was full of enthusiasm and was just so helpful with everything we needed. It seemed like my bridal attendants knew what I needed even before I asked for it. Whether it was makeup, a cold glass of water, help with my dress, a bite to eat … there they were! I liked that they had a secure safe in the bridal suite! It was really a relief knowing my belongings were secure while I was rushing all over the place. I seriously can't tell you enough times to book a reservation here! Prepare to be totally amazed by the enthusiastic staff, the beautiful wood and marble foyer, and best of all, the lush gardens that just transport you. Oh, and the price!!! This isn't a "budget" wedding house for sure, but it isn't exactly the priciest place you're going to find either, and thank goodness for that. It actually is an incredibly good deal. You get the whole place entirely to yourself. If you want the most incredible day of your life where everything goes your way, then head to Sand Castle!

April, 2015
This is an incredible place to get married! It's been months since we said "I do," and still every night I find myself reliving the whole thing in my mind as I fall asleep, wishing I could wake up and do it all again tomorrow. It was such a magical day, and it's made my whole life feel magical ever since. I will be so sad when that wears off! The catering hall is absolutely gorgeous, and I can't rave enough about the outstanding staff! They all have a terrific attitude and are so dedicated! Mohamed, Ali, you were both fantastic. You were both so great with all our questions and requests. And best of all, you never, ever acted like anything we asked for was impossible. You made everything happen just the way we dreamed, and our wedding was even more incredible than we could have imagined. We could not have put ourselves in better hands. We will forever be grateful to you for the amazing way you handled everything. My niece just announced her engagement the other week, and I am so hoping she has her wedding here; I know she is thinking about it! Then we can do it all again. Can't wait to enjoy your amazing food again, and another magical day.

September, 2014
We made a list of what was important to us in a wedding spot before we went to check places out. Beautiful ballroom/dining hall was a must, so were nice grounds, good food, good reviews … but the main thing to us was amazing customer service. We wanted to work with people who were going to make planning our wedding easy, maybe even fun! Loula made us feel right at home right from the first day we talked to her. We knew we could trust her to do a great job. We are both something of control freaks, and it's hard for either of us to let go and let somebody else take care of stuff. We warned Loula of this, and she always had that in mind when working with us. She ran everything by us, and never made any changes without asking us for feedback first. So she did all the hard work, but never made me feel like I was out of control. Both my husband and I were incredibly impressed with her professionalism and her attention to every detail. On many occasions during the planning process and also on the wedding day, she went above and beyond the call of duty to make our lives easier. Whenever there was a problem, she solved it, quick as anything. I swear she not only always had a plan B up her sleeve, but probably the whole alphabet. We also want to give our thanks to Mohammed, Bradley and Joe, all of whom were amazing too. These people not only were individually great, but worked together fantastically as a team. It is easy for us to understand now why this is one of the most popular venues around! They have earned every glowing review they've received!

September, 2014
Our daughter just got married on August 28, 2014 at the Sand Castle. I cannot tell you enough about how beautiful the whole event was. The owners and the staff were pleasant and very nice. The food was fabulous. Everyone had a fantastic time. The ceremony was outdoors in the lovely yard. Christine and Anthony made a great choice when they chose the Sand Castle to have their wedding. It was so much fun. We would highly recommend anyone who is getting married to check out the Sand Castle. The other thing I liked about it is that they only have one wedding going on at a time, so they can give you all their attention.

May, 2014
Where to begin.....From the beginning my former fiance & I had a very good feeling about our special day. Loula was extremely responsive to all of our questions, and made the beginning of a very stressful process as easy as can be. She was always extremely quick with a response/answer to any of our questions, and was always extremely helpful. When the final countdown began, and all the details needed to be ironed out, Mohammed was better than anything we could have imagined. My wife and I are extremely picky, and he made a few difficult choices for us a lot easier. When the day finally arrived, every single one of our expectations were not only met, but exceeded above and beyond. From the moment we set foot inside the building, we were treated like royalty; and this did not stop at my wife & I or the wedding party. Every single one of my guests was treated like a king/queen/princess/prince from the beginning of the day to the very end. The service was impeccable. Not only was the service at the wedding incredible, but it also extended after the night was over. Mohammed noticed that my wife and I were waiting a little longer than expected for the hotel shuttle, and offered to drive us to our hotel. Mohammed then drove us in his personal car, 20 minutes to our hotel. We were both amazed. Not only was the service spot on, but the food and drinks were unrivaled. I can go on for hours about how great the food was, and I have been to everyone and anyone who asks about our wedding. The amount & quality of food served at the cocktail hour had a few of our guests thinking it was dinner. When dinner finally arrived, people were shocked at not only how good it was, but that they could get a second plate of any entree they desired. Then the servers wrapped dinners up for the guests to take home. Where else does something like that happen? Once dinner was over, the Viennese hour began, and I can honestly say I have never seen that many desserts in my life. To sum it up, if you are not getting married at the Sand Castle, you are basically throwing your money away. This place is hands down the most incredible wedding venue I have ever been to, and even though my wife and I have been married for over a month, the calls from family members reminding us that our wedding was the best they have ever been to have not stopped. I would like to thank Mohammed, Loula, Bradley, and our bridal attendant Joe along with the rest of the staff at the Sand Castle which helped us have the best day ever. You all made the most important day of our lives completely unforgettable, and in a good way! Thanks for helping us have the best day ever!!

May, 2014
We couldn't be happier that we picked this venue! Loula was a dream to work with, and Ali was amazing too. Every staff member we dealt with through the entire planning process and the big day itself was phenomenal. I also can't say enough what a beautiful spot this is. They do an incredible job creating the perfect ambiance, and they treated us like a king and queen.

April, 2014
Sand Castle makes your wedding day a dream come true with their amazing staff. My husband and I cannot say enough about Loula, Mohamed, Bradley, Ali, Jenin, Joe, and all their waiters/waitresses, and bartenders regarding their customer service and professionalism from when we first booked with Sand Castle to the wedding day. They were very attentive and truly care about the groom, bride, and our guests. The wedding details were perfectly coordinated by Mohamed and his team. The internal communication that he had with his team and other vendors (photographer/videographers, DJ, and florist) were on point. If it wasn't for Mohamed and Bradley, I would have not been able to get the Father/Daughter, Mother/Son, and cake cutting on video as our videographer was leaving at 11:30pm (which we forgot to informed Sand Castle). They were able to catch all things that could have gone wrong and made it perfect. They definitely made our wedding day stress free which I truly appreciated after enduring such a stressful week leading up to the wedding. Our guests are still raving about how this was one of the best wedding that they've ever been to and how the cocktail and Viennese hours were phenomenal. There was too much food and mostly importantly the quality and taste of the food was extremely outstanding. Not to mention the décor of the venue. It was such a beautiful venue from the entrance, lobby, ballroom, to the garden. We have NO REGRETS booking with Sand Castle and they were worth every dollar that was spent. We love you guys and can't THANK YOU enough for helping to make our wedding day so special and such a memorable day. Your family catered to all of our requests and fulfilled every wish that we had to make our wedding day the BEST day of our lives. Thank you MOHAMED, LOULA, BRADLEY, ALI, and SAND CASTLE FAMILY! Dani & Nini 4-5-14

January, 2013
My husband and I have the most beautiful wedding at the sands castle. My wedding date was september 1, 2012. I am still trying to figure what words to used to say how happy and how greatful we were . My family and friends co workers CANT stop talking about our wedding . EXAMPLE how organize the staff were . How pleasant how professioal, they never been to a wedding that was so organize. From the beginning they told me they will have everything under control dont wont. IF YOU STICK WITH THERE PLANNING GUIDE YOU CANT GO WRONG.

October, 2012
5 stars aren't nearly enough to rate this venue! They made my daughter's wedding a fairy tale come true. All the guests were WOWED! The service, the food, the staff far exceeded excellence. Every guest felt like they received special treatment, not realizing that this is the standard the Sand Castle sets.

March, 2012
My daughter & new husband held their wedding at the Sand Castle last Friday night and it turned out to be the best experience of her life. The moment you walk through the door they treat you with every courtesy imaginable. We held the service in the Garden area due to the fact that the weather was just beautiful (who would think ..in March yet !!). For the guests who arrived early there is a Hospitality Suite where h'orderves and drinks were offered (many of the guests thought it was the Cocktail Hour...they had no idea what was ahead). The Cocktail Hour was magnificent with every food you could possibly desire. There was a special Martini Bar with three martini's named after their pets ...so cute and according to the guests ...delicious. After the Cocktail Hour the guests made their way to the Reception area which was beautiful. There they were treated to a four course meal (with seven dinner choices) all made to perfection. At the end of the night the Viennese Hour had no rivals...just yummy !!! Loula is just wonderful to work with and will try her best to fulfill every wish the couple may have...she certainly succeeded for our event. The Maitre d's...Mohammad & Bradley worked with every vendor to make sure the day went smoothly. They also made sure anything the couple, their parents and bridal party needed were right at their fingertips. All the staff was fantastic and attentive to the guests and I thank them with all my heart. If you had to score from 1-10 ...10 wouldn't be good enough. If you are planning an event this is the location to book ..you will NEVER regret it !!!

February, 2012
What an experience !!! From the moment we walked into Sand Castle we were treated like celebrities. All our special requests were accommodated down to my gluten free restrictions. Our guests are still raving about the food and service. They even packed up the venetian hour for us to take home as a surprise at the end of the night. Our matreds and bridal assistants were amazing!!! They were by our side making sure we had something to eat or drink all night. I think we were the only bride & groom that actually enjoyed their own wedding. Our dance floor was packed all night thanks to Genesis events, they know how to get the party started. We couldn't be happier!!! Sand Castle is the perfect venue!!! Vicky & John :) 1.7.12

January, 2012
it is the best place to have a wedding everyone is very kind and very helpful we had a few problems with one of the brismaid dresses and they all tryed to help to fix it and they really did they have a great teamwork they have evrything you need even a sewing kit it is a great experience and it was my sisters wedding so if one day i have a wedding no question its going to be there wonderful helper wonderful price and most important wonderful price=)

August, 2011
Never have I been to a wedding like this.......Sunday 8/21/2011 Beautiful from beginning to end. The service, the food, the atmosphere was unbelievable. What a wonderful memory for the Bride and Groom to ponder as they plan their 25th. God Bless them.

June, 2011
I have been to many weddings and thought I had seen the best of the best. Nothing could have top the experience I had at the Sand Castle attending a wedding. From the begining to the end nothing but professionalism. From parking of the cars to the host/hostess and waitress/waiters they were simply the best. If I didn't know better I would have thought they were hand picked one by one. Continue to great work and wish you many more weddings to come because it definitely worth what ever it cost.
Stats
63,318 views since Feb, 2010
Share