Seasons South Hampton

Welcome to the world of Seasons of Southampton Caterer, a unique resource for memorable events in the Hamptons. We provide you with a world-class chef and creative, customizable cuisine that takes advantage of the availability of sparkling fresh local ingredients. We pride ourselves on offering superb service.

Our venues vary from your backyard to breathtakingly beautiful beaches, from your pool side to nearby vineyards. We have a beautiful home for on-premise events... A historic house in Southampton Village that we have transformed into a bright and flowing space for parties of 25 to 250. Our newly-terraced lawns allow your party to flow outdoors seamlessly.

We'll cater a gourmet dinner at your home for a few friends or a wedding for hundreds. We'll tailor your event to fit your fantasies and your budget. The traditional and formal or the unique and unexpected. What all Seasons of Southampton events have in common is that they are anything but common. And they'll provide you with memories that will last a lifetime.
Simultaneous Events

1

Business Events

Outdoor Area

Valet Parking

Off Premise Catering Available

On-site party planner
For more details about amenities, please message the Venue.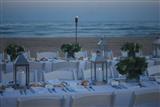 631-283-3354

631-283-5407

November, 2014
We were at a party that Seasons catered for, and we loved the food. The party was at their venue, which was nice, but not what we were looking for to celebrate our wedding (too small for starters, and just not the right atmosphere). So we were delighted to find out that they are willing to cater off-site, and do that a lot. We celebrated our wedding at another venue, but had Seasons take care of the food for the dinner and the cocktail hour. They also helped us out with the décor (themed events are one of their specialties, and we had them help us out with creating a wedding theme). On to the food! With Seasons, you choose a menu package. They have a lot of different options, and we were tempted by several of them. Clambakes are one of their main specialties, and they also do brunch, barbecue, etc. Each of the different menu packages has a slew of options inside, so you get choices within choices. We ended up going with the deluxe cocktail one (I think that was what they called it), which came with eight different hors d'oeuvres and an appetizer. You also can add stations and an open bar (the bar was fantastic!) You can choose between a buffet and a sit-down dinner. The sit-down dinner sounded nicer to us, so that was what we decided to go with. It came with another open bar (four hours!), wine, champagne, complimentary bread and butter, a wedding cake (included in the price, yes!), cookies, cupcakes and more. We were able to choose half a dozen appetizers, soup, and several different main dishes. They also had a number of stations and tables you can add on at an additional cost as well as other dessert options. We went out of our way to make sure we actually got to sit down long enough to have a bite to eat. We still ended up eating a lot less than our guests (of course), but we did get to enjoy all the courses. My chicken entrée was just perfect! I think the best thing about Seasons though was just how easy it was to work with them. The way they have the menus structured, it is really easy to pick and choose what you want, and they were happy to work with us on things we wanted changed with the recipes. They arrived on time to the event, communicated with us on the phone beforehand, and helped us set up décor. The food was incredible and exactly as promised, and there were no surprises with the price. The leftovers we got to take home that night were awesome the next day! Our guests said that the food was much more flavorful than the bland cuisine they are used to at weddings, and a couple of my friends said they wished they'd used the same caterer for their wedding! I really recommend using them instead of going with your venue's caterer. You will get better food and you will save money on the cake.

July, 2014
We wanted kind of an old-fashioned wedding, and that was the look we were going for with our pictures and everything. We chose this location mostly because of the scenery. It was right for what we wanted and set the perfect tone. It was absolutely beautiful. We were amazed by everything else too--the wonderful, personal service, the delicious food, the ease of setting everything up in the first place. We could not give them a higher recommendation!

July, 2014
We did their wedding package and loved it. The catering menu was exquisite. We loved the falafel and spring rolls for our appetizer, and the chicken we both had for our entrée was outstanding! They offered us so many options, and it was really easy to customize the menu. The staff were able to handle our special requests with ease. They were really enthusiastic and a joy to plan with. Best wedding dinner we could have asked for.
Stats
7,883 views since Jan, 2013
Share