Shandon Court


Located in the center of East Islip on Long Island's South Shore, Shandon Court offers a romantic setting for any special occasion. The facility prides itself with providing you with a truly unique and personal experience, catering to your every need - from menu and décor to setup and entertainment. The professional staff is dedicated to working closely with each couple in order to satisfy every requirement. Hosting only one affair at a time and giving you all the attention you deserve is what Shandon Court is all about.

The Court Room provides a bright, classically sophisticated decor. It features ivory columns, elegant crystal chandeliers and a spacious cherry-wood dance floor. The Jury Room, with a capacity of up to 100 guests, features stately woodwork, hardwood flooring and a handcrafted cherry full service bar.

Be it an elaborate event or an intimate gathering, your guests will appreciate being able to enjoy a lavish candle-lit reception. Shandon Court specializes in smaller celebrations for up to 185 people. The Finlay family who owns and operates the facility guarantees that the service, attentiveness and cuisine will not only meet your expectations but exceed them. They create each wedding individually to insure that it reflects your vision of perfection. Included with your catering package are directional maps, place cards, valet parking and a custom made ice sculpture. Several flexible wedding packages are available to suit your individual needs.

The Maitre'D will assist you in all phases of the planning process. European-trained chefs bring their expertise to every one of their delicious creations. The al la cart menu is only part of your customized package as is the attention to detail and the eclectic presentation. The five hour open bar serves unlimited top shelf liquor, imported and domestic bottled beer and fine wines throughout your entire affair. Also provided is a customized tiered wedding cake.

Shandon Court offers a full range of elegant catering and event planning services for your momentous occasions. Their skilled chefs will prepare and artfully present sumptuous cuisine that will delight all your guests, while their professional event specialists execute your vision with impeccable creativity, experience and style.
Seating Capacity

35 to 100

Simultaneous Events

1

On-site party planner
For more details about amenities, please message the Venue.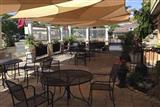 631-581-5678

May, 2015
Shandon Court is such a great place. We head out here a lot to go to their events. They have live music every night, which is amazing, and they have these super fun quiz nights on Wednesdays. The wine menu is huge, and they have a great dinner menu. The food is incredible. In short, this is an amazing restaurant/lounge, and we love it. That's why we picked them for catering for our wedding dinner! We had such a great time working with Regina, Donna, Sara and Rosemarie, all of whom were responsive to our questions and more than willing to customize the menu to our needs. We had a great time sitting down to plan the menu with them. We got to pick three appetizers (the stuffed mushrooms were my favorite), and they had a bunch of extras we could go with too, including this amazing fondue station! We got to choose a whole bunch of hors d'ouvres, and then there was the amazing dinner … delicious lobster soufflé, fresh salad, and the most amazing fish filet I have ever eaten. Everything was outstanding. I thought their regular menu was good … this was even better! Another cool thing we discovered while we were planning our wedding, thankfully before we committed to a venue for the ceremony, is that they actually do ceremonies right here on the premises! The fee was a very reasonable $400, and gave us access to a lovely little room with a beautiful decorative arch, a runner for the aisle, drapings, and everything. We didn't need to do much to decorate; it was all done for us. That was extremely convenient, and took a whole lot of planning hassles out of our hands. We didn't need to worry anymore about how we were going to transport all our guests from the chapel across town where we'd originally planned to get married to the restaurant to eat. Just one stop for everything. That also meant we could all spend more time together enjoying each others' company. It didn't feel we got enough of that as it is, but we got a lot more than we would have if we were rushing fifty directions at once. This was the perfect venue for our small wedding. We kept things simple and minimal on purpose. We wanted to save money for our honeymoon, and we also wanted to just have a nice day together with our family, and not worry about a lot of crazy planning and details. Here we were able to do just that: say our vows, and enjoy an incredible cocktail hour and dinner with the people who matter most. We are so happy that we decided on Shandon Court. And now it will have that extra nostalgia value every time we come here to eat, listen to some local music, or play in one of the quiz games. It will always be our very special restaurant where we said "I do." And that is priceless … at a very reasonable price.

December, 2014
We had our rehearsal dinner here. That was something we were really looking forward to ever since we started planning our wedding. We knew we wanted something really special, and we figured this was really our only chance to enjoy a great meal, because of course on your wedding, you never get to eat much! (We were right about that too; I barely got more than a mouthful during our wedding dinner, so the rehearsal dinner was a lot more fun). We hunted around a lot before we decided on this restaurant. We wanted somewhere we could all wind down and relax after the rehearsal. This ended up being a great choice for just so many reasons! First off, they were flexible, and they understood when we showed up a bit late. I was really freaking out in the car when I realized that we were stuck in traffic. We'd finished up the rehearsal a few minuets late to begin with because we'd messed up a couple times and needed to make some changes. And then the bumper to bumper gridlock … by the time we made it to the dinner, we were pretty far behind schedule—and a few of our family were later than we were. We were panicking that they'd want to reschedule us or cancel our reservation, but they totally understood and they weren't even mad! They just welcomed us, told us that it happens all the time, and sat us down like we'd been right on time. What a relief that was! So when we everyone was settled in, they brought out drinks and hors' d'ouvres. They were excellent! I had to restrain myself so I'd save room for my dinner. For dinner there were several different entrees, and I decided to have the chicken. It was one of the best things I could remember tasting in ages! They also included salad, dessert and coffee. The cake I had that day was better than my actual wedding cake! I wish we'd had them do our wedding too, but we just didn't know when we arranged the catering with the venue that these people would have done a much better job. Not just because of the food either. Like I said, the friendliness of the service was incredible. They were so great with the fact that we were late, and they didn't rush us to try and keep to the original schedule either. They gave us a couple of full hours to relax and eat and enjoy the evening with the most special people in our lives, and it was really lovely. A perfect end to a perfect day.

November, 2014
We needed a big venue for our wedding, and preferably a hotel, so we actually had our wedding at a different location. We knew we absolutely wanted Shandon Court to do the food though, so we ordered their off-premises catering. We're crazy about their seafood and their Italian food, so we picked a couple of entrees and had them delivered to our wedding party for the dinner. Glad we did too; the cocktail hour we had handled by the wedding venue, and it was pretty good, but it so did not compare to the dinner we had Shandon Court bring us! The tilapia was just perfect, and so was the lasagna. Our guests loved both, and a lot of people asked us where we got the food from. It's always nice to have an opportunity to introduce more people to Shandon Court. It is our favorite restaurant on Long Island and probably always will be. They always find new ways to impress us. This time the food was better than ever, and the service, as always, blew us away!

September, 2014
Oh my gosh, the food here is unbelievable! I don't think I've ever actually had better seafood in my life. We chose Shandon Court for our wedding because we're both foodies and we figured we'd rather have a restaurant that does part-time catering/events handle our wedding and serve up delicious gourmet than do our wedding at one of those huge event venues where the food is so-so and overpriced. We'd heard a lot of praise for this place. We showed up for dinner one night, loved it, and immediately came back and made an appointment to talk to someone about doing our wedding. We had so much fun planning the wedding, and they were flexible about all of our requests! When they got a feel for our tastes, they even came up with some really cool suggestions. The place settings were absolutely gorgeous, and we had a very fun time at the reception. Décor, entertainment, everything was amazing. The service is otherworldly. I'm sure they would do an incredible job at any kind of party or gathering. Let's hope we come up with an excuse to do another party here sometime in the future! Until then, we'll be back for dinner as often as possible.

September, 2014
My sister's absolute favorite restaurant anywhere on the East Coast is right here. It's one-half restaurant, one-half catering hall, so that couldn't have worked out better when it came time to plan her shower. It was a small, intimate gathering, and the restaurant had just the right space to put us in. I had a wonderful time working with everyone on the catering staff-especially Rosemarie and Donna. All of the ladies are angels, and spent plenty of time with me planning the menu. They understood how important it was to me to get everything just right for my sister's special day. They have this lovely European-styled tea thing, which was just perfect for her since she is crazy about British stuff. I ended up going with a variation on that. The event lasted several hours, and there were delicious hors d'oeuvres. The tea was yummy too! One thing I had been freaking out about was décor. I thought I was going to need to call a florist or some kind of event planner, but the restaurant staff worked with me on that too, and took care of everything themselves! They gave me a list of options and got flowers, balloons, candles, everything! I could not get over how beautiful the room was when my sister arrived, and when she saw everything and everyone there waiting for her, she just gasped! We stayed there for several hours just relaxing and talking and celebrating, opening gifts, sharing memories, talking about the future. The whole time, our cups were never empty, and we were never wanting for anything. There was always food, and always someone asking if we needed anything more. Service like this something to treasure when you find it, and I am more of a fan of Shandon Court than ever. If I ever can think of another excuse to throw a party, I am going to do it here! It really is the perfect spot for a shower—they really know how to entertain a bunch of ladies in style. Thank you again to Donna, Rosemarie, Sara, and Regina! You are all such angels!

July, 2014
We did the brunch catering package, and it was sooooo good. They had the most amazing French toast I have ever eaten with vanilla custard. The eggs benedict was out of this world, and the quiche was just phenomenal. I barely managed to save room for dessert. It was a wonderful time, and I will dream about the food they served!

May, 2014
A very elegant place to have a celebration! We had a wonderful time, and want to extend our thanks to everybody on the staff for helping us to make our special day everything we wanted it to be. And our compliments to the chefs - they are outstanding!

May, 2013
The baby shower I hosted at Shandon Court was a great success! I'm still getting calls about how wonderful the food and service was. Hope to have the Christening there as well.
Stats
15,822 views since Jun, 2011
Share