Snapper Inn Waterfront Restaurant
Snapper Inn Waterfront Restaurant


Located on the picturesque Connetquot River in Oakdale, Snapper Inn offers magnificent settings, award winning cuisine and impeccable service. Whether you're planning a wedding, rehearsal dinner or any other social or corporate event, the Snapper Inn can accommodate all your needs for up to 250 guests. Its beautiful surroundings, waterfront location, lush lawns, English gardens and panoramic views create the ideal setting for your once in a lifetime affair. The Main Dining Room was completely rebuilt in 2013 and is the perfect site for weddings of up to 160 people with direct access to the main bar and lawn for cocktail hour depending on the season.

A variety of wedding packages are available and can be customized to suit your requirements and budget. The Snapper Inn offers both indoor and outdoor venues for your ceremony and reception. Along with the Newly Built Wedding Room, The Open Air Waterside Pavilion is available from May into October and can accommodate up to 180 guests. A Special Bride & Groom docking slip is available to arrive In style by boat! A personal Maitre'd will be there to ensure that every detail is perfect. Also included in your 5 hour package are directional maps for your wedding invitations and your choice of linen colors.

The highly trained chefs will assist you in tailoring a menu and the professional wait staff will be at your service for the entire length of your event. Your cocktail hour includes hors d'oeuvres, made from only the freshest ingredients, elegantly presented and served butler style, cold canapés, a gourmet pasta station, artistically presented displays and hot chafing dishes. Your dinner menu includes a salad, carving station, main course and a tiered wedding cake of your choice, served with tea and coffee. Cocktail service includes open bar of top shelf liquors, house wine, bottled beer, cordials and champagne.

Recognized as "Best Seafood Restaurant on Long Island" by the Long Island Press and 15 time winner of the Long Island Chowder Contest, Snapper Inn's cuisine is sure to please even the most discriminating palates. With its beautiful waterfront location, the Inn is a premier catering facility, which will provide you with memories you'll cherish for a lifetime.
Seating Capacity

20 to 250

Price Range (per plate)

From $65

Simultaneous Events

1

Business Events

Outdoor Area

Bridal Room

On Site Ceremony

Valet Parking

Off Premise Catering Available

Kosher Menu

Outdoor Area Garden

Outdoor Area Terrace

Outdoor Area Patio

Overnight Guest Accomodations

Dance Floor

Wheelchair Accessable

Coat Check

Live Music Permitted

DJ Permitted

AV Equipment Available

Must Use In House Liquor

Must Use In House Caterer

Air Conditioned

Kitchen On Premises

Tables Chairs Included

Premium Liquor

On-site party planner

Separate Room for Cocktail Party
For more details about amenities, please message the Venue.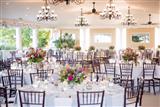 631-589-0248

631-589-0572

January, 2015
We could not have had a more wonderful experience anywhere! Our wedding was incredible, and the planning was almost as good a time as the day itself. I am amazed that they were able to make this such a stress-free thing! I was not looking forward to all the complications we'd have to work out and I was so worried about everything that could go wrong with people traveling in from out of town, etc. So when we went here to see the venue, I was overwhelmed. I walked in there totally freaking out about everything I thought wasn't going to be possible. I didn't walk out that way though. Lori made me feel like everything was going to work out, just from a single conversation with her! She had so many different ideas, but she helped me stay on track by suggesting what she thought would be best. I really appreciated that. Even though she gave us lots of choices, she made sure we didn't get lost in all those choices. Lori always kept our wants and needs at the forefront of her mind. She never was trying to sell us on anything or get us to move up to the next most expensive tier, and she never treated us like we were "just another couple," even though I'm sure that's what we were. They look to be a very busy, popular place, and they must see tons of couples every month! So the fact that she made us feel like we were the only couple in the world every time we were there was just amazing. That's great customer service. We loved our wedding banquet and our cake. The food really was not what we were expecting. So many people told us that wedding food is usually really bad! This wasn't just good, it was great. As good as the best gourmet restaurant I've ever eaten at. And once again, there were so many choices. And there was nothing that the chef wasn't willing to try. Our custom cake was awesome! It looked so beautiful! We were almost sad to have to see it go so fast, but our guests are still talking about how good it was. If you're a nervous bride like I was, I really suggest that you come here. Lori is such a nice person and really has it together. You are in good hands here. She won't let you forget that! When you have someone of this caliber working with you every day to make your wedding a success, you don't have to fret! She had everything in hand every step of the way and probably half a dozen backup plans in case anything went wrong (which it didn't). In hindsight, if I'd known it was going to be that easy, I would never have been so nervous in the first place, and probably would have enjoyed the planning more, lol. But even so, I still had fun, and I wasn't worried at all on my wedding day!
1 out of 1 found this review helpful

November, 2014
They have so many different wedding packages here. When Lori showed us our options, we felt overwhelmed, but in a good way! We had a really hard time making up our minds, and she was so helpful. She didn't automatically just try and sell us on the most expensive package either. She took the time to understand what we were looking for and then helped us narrow it down. Since it was a summer wedding, we could get married indoors or outdoors. We had lots of advance planning time to take care of scheduling, so we actually decided to do the Sunday brunch thing. You have to do it on Sundays; they don't do the brunch the rest of the week. But that worked well for us and for our guests. And the food was incredible! I am a huge eggs benedict fan, and they made the best eggs benedict I have ever eaten! I barely saved room for dinner, but the ravioli was incredible too. We had desserts too, though I was too full to have any. The drinks were really fabulous! Not everybody can make a good Bloody Mary, but mine was perfect! I heard that the Mimosas were excellent too, but I didn't try one. My hubby was really happy with the beer selection. We found this place initially through a referral. One of our friends was married here a few years back, and she told us that it was an amazing experience. She told us that Lori was a wonderful person to work with, and she was right. She took all the stress away, and everyone who works under her are so good at what they do! This is not your typical catering hall. They have a lot of options and plenty of room, but the feeling is a lot more personal. Thank you to our dear friend for such a perfect referral, and a huge thank you to Lori and the rest of the staff for making our day so wonderful!
1 out of 1 found this review helpful

September, 2014
We just fell in love with this place on sight! The way the space flows from indoors to outdoors is really nice, and perfect for a warm day or evening. The columns and the porch give it almost a colonial feel, and it's right up by the waterside. You can watch boats go by and everything; it's quite nice. Our wedding felt classy and kind of old-fashioned, which was exactly what we were going for. Lori was the one we worked with on all of the planning. We didn't have a separate wedding planner or anything, so we needed help with pretty much everything except the clothes. She had some great connections across the board, and got us set up with flowers, cake, catering, entertainment, everything. We had a very fun time on the day of, and the wedding cooperated perfectly. Wonderful time, exactly what we had hoped for. Thanks Lori for making it all so effortless!
1 out of 1 found this review helpful

July, 2014
This place is simple but lovely, with amazing views out the windows and an unbeatable location. Our event was perfect, thanks to the hard work by Lori and the rest of the staff. We couldn't have been happier.

July, 2014
We really enjoyed working with Lori on all our wedding plans. The weather was beautiful on the day we tied the knot, and we had a wonderful evening at the Snapper Inn celebrating in style. You aren't going to beat this place for a beautiful location and a lovely interior. We loved both the indoor and outdoor areas here, and the food was ridiculously good!
Stats
28,132 views since Feb, 2010
Share