The Sterling


The all new Sterling located in Bethpage, NY has been providing the highest quality catering for Weddings, Bar & Bat Mitzvahs, Sweet 16's and more, for over 50 years. The Sterling has become one of the most popular Catering Halls on Long Island. Close personal attention and a reputation for exceeding its client's expectations is what sets The Sterling apart from all others. The Sterling can accommodate over 550 guests.

Our award winning chefs will help you create a customized menu according to your taste and budget. The Sterling takes great pride in providing the highest quality cuisine prepared by their internationally trained chefs. From artistically presented cold displays and delicious buffet specialties, to your main course entrees, wedding cake and dessert, The Sterling offers the absolute best of everything.
Seating Capacity

75 to 600

Price Range (per plate)

$50 to $100

Simultaneous Events

2

# Of Reception Rooms Available

3

Business Events

Outdoor Area

Bridal Room

On Site Ceremony

Valet Parking

Off Premise Catering Available

Kosher Menu

Outdoor Area Garden

Outdoor Area Patio

Dance Floor

Wheelchair Accessable

Coat Check

Live Music Permitted

DJ Permitted

AV Equipment Available

Must Use In House Liquor

Air Conditioned

Kitchen On Premises

In-House Party Planner

Tables Chairs Included

Premium Liquor

On-site party planner

Separate Room for Cocktail Party
For more details about amenities, please message the Venue.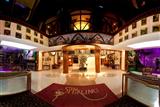 516-931-7600

516-931-3344

April, 2015
I thought being a bride was supposed to be uber-stressful! It certainly was for all three of my sisters, my best friend, and my cousin. I attended all of their weddings and helped to plan three of them! Let me tell you, I wasn't even the bride and *I* was stressed planning those weddings! I couldn't even imagine what a nightmare planning my own was going to be. Especially since I had to have everything perfect. I'd been dreaming of my wedding since I was a little girl. You only get one chance to get it right! So, fast-forward to my own wedding. Completely different experience than the other weddings I've been part of. And I mean *completely* different! Stress? Okay, I won't lie, it's not like the word was out of my vocabulary. But I swear I was actually *less* stressed planning my own wedding than I was planning my sisters' weddings or my best friend's wedding. That shouldn't be possible, but it was, and I'm convinced it's because we decided to go with the Sterling. At first, we weren't sure this was the right choice, for the simple reason that they mostly do Indian weddings, and our families aren't Indian. Still, everything we saw really amazed us, and it wasn't like the staff reacted to us not being Indian. They were totally nice and very excited about helping us out. One thing really did almost turn me away was finding out they have more than one reception hall, and sometimes there are other events going on at the same time. If there were on our wedding day, we didn't hear them at all. So can't really complain about that, and very glad it didn't chase us away. We did get married in the indoor chapel. Previously, I'd been opposed to doing this, because oftentimes I think indoor chapels at catering halls look a bit cramped and plain and well … ugly. This one surprised me. It feels a lot more open; the ceiling is relatively high, and the walls have some decoration; they aren't that plain, claustrophobic white that I've seen at a lot of other indoor chapels. It was actually very beautiful, and as it turned out, the perfect choice, the *easy* choice, for our ceremony. I loved that we were able to do everything in one place, and there wasn't so much running around! Made it all easier for our guests, not just us. No one rushing around trying to find each place. We also liked it because it's non-denominational. We're not religious, so this was a more comfortable choice for both of us than a church or something would have been. We had our reception in the gorgeous "Conti" Room. It's a huge hall which can hold around 200 people quite comfortably. The dance floor's huge, and it's a really colorful space that they can light however you want it! You can have all kinds of themes and colors schemes. They made it look so cool for us! We were crazy about the entertainment too. The music was awesome, and they had built-in TVs, video systems in the floor, all kinds of cool stuff that made for some really crazy ambiance. The flowers were amazing too! The centerpieces were very eye-catching and they did a great job making the tables stand out. The cocktail hour was the favorite for many of our guests. They give you an open bar, a ton of hot and cold appetizers, cheeses, and more, and it was just really lovely! We loved the buffet dinner too. We were worried that the food wouldn't be that great, both because it is wedding food and because it's a buffet, but we couldn't have been more impressed with what they had. I didn't get to eat nearly as much as I wanted, but they let me take home leftovers. Loved the stuffed cabbage, that was amazing! And the dessert table, don't even get me started on that. I only had a tiny slice of my (beautiful) wedding cake, but there were a ton of Viennese pastries and a chocolate fountain too! The flaming bananas foster … nom nom! What an amazing buffet! In short, we loved every minute. Great place to have your wedding, the ceremony *and* the reception!

October, 2014
All-inclusive was what we were looking for, and here we found the most reasonable and flexible packages. We literally didn't have to work with a single other vendor. They had *everything* we needed. Flowers, décor, lights, entertainment, everything. Food! The catering was soooo good. And the videography was brilliant too; we just can't get over it. We were thinking about doing that part ourselves too, just having a friend or relative take care of it. So glad we didn't do that; that would have been a total waste. The video is professional quality, and it's just so cool to be able to re-live our wedding party whenever we want. We can't wait to show it to our kids someday. Planning here is a real breeze thanks to a staff that takes obvious pride in what they do. Everyone is so friendly and thoughtful, and just full of amazing ideas. We pretty much left the details up to them. We didn't trust ourselves with the plans, and we just wanted to keep things simple and hassle-free. At first we were worried they wouldn't know where to begin, and would be used to people who had a better handle on things, but they didn't think it was weird at all that we hadn't gotten started. They just gave us a ton of great options and let us pick. It was a fun time and everyone loved the party. Beautiful place. It could not have been easier than this if we'd eloped! And yes, we did think about it, because we were that intimidated at first. But we are so glad we did this. We deserved a party, and so did all our friends and family. If you want your wedding planning to be *easy* and you want everything to go smooth, this is your venue!

September, 2014
We searched high and low to find the perfect spot for our wedding. We had a huge wedding party, and we didn't want to leave anyone out. We were worried we wouldn't find anyone with the capacity we needed, but these people easily were able to accommodate us, and we still didn't feel too crowded! We worked closely with Julianna and Mr. Raj. They were great from the first day through to the big day, and took the time and attention to answer our questions and guide us through the planning process step by step. This would have been so challenging without them. We had no idea how we were going to take care of so many guests, but they did it all for us. They coordinated everything flawlessly and saw to everyone's needs. It really took the weight off of us so we could just have fun and enjoy our day instead of worrying so much about getting it all right. The package we got came with a full buffet, a wedding cake, a DJ, LED lights, even photography and videography. There was a limo and everything. We hardly had to do any planning on our own. Seriously, make your wedding planning a piece of cake and come here!!!

May, 2014
We loved this place from the moment we set foot inside the gorgeous lobby. My wife was even more thrilled when she saw the gardens. It was the perfect place for our reception, a very intimate setting, and they did a remarkable job with the mood lighting out there. A lovely, unforgettable evening.

May, 2014
Our wedding party was huge, so we needed a big space. A friend told us about the Sterling, and we were very impressed with the staff when we dropped by. Diane was a joy to deal with, and the banquet was phenomenal! The space itself is absolutely gorgeous. We loved every minute!
Stats
35,719 views since Dec, 2012
Share