Westhampton Manor
The Hampton's in New York have been a part of outdoor occasions, like vacations and even weddings for years. The West Hampton Manor has the elegance and the beauty that you are looking for. Any woman would be thrilled to have her wedding in the Hampton's or a weekend getaway with her gal pals. A girl celebrating her sweet 16-birthday celebration would also have a lovely time at West Hampton Manor.
West Hampton Manor can be your home away from home. Summer homes can take the stress out from your hectic everyday life and you can even have your corporate parties or meetings in the Hampton's and make everyone's lives a bit easier and certainly more beautiful. West Hampton can offer you and your husband or best friend private docks with ocean access and the beach is a mere 3 minute drive away. Village Main Street is only a 5-minute walk from your beachfront home. Having your wedding on the beach and then returning to your waterfront home for the weekend is a great way to start a brand new life.
The properties are lush with surrounding trees and the ocean breeze brings a calmness to your stay. You have access to a pool, spa, and sauna within the white walls and openness in your weekend home. Your stay will be filled with glorious views and windows that open up the home and are warm and inviting. With 7 bedrooms, there is enough space for a group of friends or you and your fiancé or husband can use the home as a private get away. The staff quarters are separated from you so they are there when you need them and far enough away to give you the privacy that you need.
Make the Hampton's your summer home or weekend getaway in the off-season.
Simultaneous Events

1

Business Events

Outdoor Area
For more details about amenities, please message the Venue.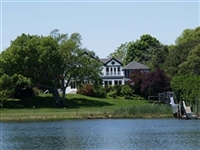 917-306-5600

March, 2015
I reserved this place for a party, and we had an amazing time staying here for a few nights! It was like we had our very own private resort all to ourselves. Basically how it works when you come here is that you get the entire place. It's not just like staying at a bed and breakfast where there are other guests. The house is basically hours! In fact, I pretty much spent the whole stay pretending it really was mine! It was so much fun imagining I actually lived here on the beachfront with these amazing views and glorious rooms! You have a pool, a sauna, even a spa in here. The staff is around to help you, but not to get in your way. My favorite part thing is the backyard, where the grassy hillside dips down to the water and there are these huge, beautiful shade trees. We had a lot of fun playing games back there and just relaxing and sunbathing and enjoying the weather and the water! The poolside also had plenty of green grass and shade. This experience was very unique, and way more fun than going to a standard bed and breakfast would have been! It was a very special time, and I will never forget it. When I went home, it felt like I was stepping out of a fairytale or something, and back into my ordinary humdrum life. I wish I really did live in this house. It is just such a wonderful place, and you really feel like you are living the life while you are here. My friends still talk about it all the time. I doubt it's something I will get a chance to do again, but I keep holding out hope. Maybe one of my friends will have a party here and we can all go back. I can't help holding my breath!

November, 2014
We didn't have a lot of people coming out for our wedding, just our close friends and family, and we wanted to do something a little bit different. We realized pretty early in our quest for wedding venues that our party was so small that we weren't going to find much outside of restaurant catering rooms, and that a traditional wedding party would be next to impossible anyway. It was my mom that came up with this idea. She had like a friend of a friend who stayed here and had a great time, so she passed along the name of the manor and we had a look. Basically, this is like a huge house you can rent right on the shore of the harbor. It has its own boat dock, seven bedrooms, a really nice seating area, and this beautiful grassy lawn right up against the water. There are lots of shade trees and it is just really beautiful! The trees and the grounds give you a very nice sense of privacy and seclusion. When we went to look at it, we both agreed it was perfect! The house was big enough that everyone we were inviting could choose to hang out with us for a few days if they felt like it, and we could have the wedding and the party both right here. We got married in the lawn behind the house, with the view of the harbor framing the background. It was a beautiful ceremony and felt very private and special. For the party, we basically took care of entertainment ourselves, but we had catering bring in food from a local venue. The food was incredible, and they were really expedient delivering it and setting everything up for us. They provided us with a couple servers, so it was almost like being at a restaurant, only better! They even packed up and took everything away at the end. We stayed with our friends for a few nights and we found fun activities to do during the days. It was like having a big sleepover party or something, or a short but very visit with friends and relatives. It was fun having everyone under one roof. We're really happy we chose to do this; I think it was a lot more fun than anything else we could've done. I'm so glad my mom thought of this! She had the best idea ever!
Stats
10,620 views since Feb, 2010
Appears In
Share