Ariana Waterfall: Where You Say I Do & They Do The Rest

Ariana Waterfall is the paramount location for your intimately glamorous, all-inclusive Long Island wedding. With everything you'll need located under one roof, the unique details of your special day are sure to be sheer perfection. Your guests will first enjoy a classic cocktail hour in the newly renovated Cocktail Room. Walk down the aisle in the distinctive, marble-lined ballroom incandescent with natural light, showcasing gorgeous chandeliers, statuesque floral arrangements, and glass-enclosed tropical gardens.


In the blink of an eye, your ceremony room transforms into the reception of your dreams, which welcomes warmth and enchantment on your big day. Be whisked away for your first dance on the stunning marble dance floor, where you'll dance the night away with your closest friends and family, and create memories to last a lifetime. Take unforgettable photos with the ones you love by the sweeping marble staircase, under the large, brilliant, art-deco chandelier, or outside in front of the glistening rock waterfall. Choose an Ariana Waterfall wedding and the experienced and welcoming staff will take care of you and your guests every step of the way. You say "I do" and they do the rest.
Seating Capacity

75 to 200

Price Range (per plate)

From $59

Simultaneous Events

1

# Of Reception Rooms Available

2

Business Events

Outdoor Area

Bridal Room

On Site Ceremony

Valet Parking

Kosher Menu

Outdoor Area Garden

Overnight Guest Accomodations

Dance Floor

Wheelchair Accessable

Coat Check

Live Music Permitted

DJ Permitted

AV Equipment Available

Must Use In House Liquor

Must Use In House Caterer

Air Conditioned

Kitchen On Premises

In-House Party Planner

Tables Chairs Included

Premium Liquor

Separate Room for Cocktail Party
For more details about amenities, please message the Venue.
Q: What sort of different event packages do you offer?
A: We specialize in ALL INCLUSIVE WEDDING PACKAGES. We provide you with all of your catered food, full open bar as well as the Photographer, Videographer, DJ & MC, Limousine, Floral Centerpieces, PERSONALIZED Ice Sculpture & Custom Tiered Wedding Cake.
Q: What is your minimum and maximum capacity for an event?
A: Our minimum is 75 guests our maximum is 200 guests.
Q: What is it that makes your establishment and location perfect for an event?
A: We do only one event at a time so your affair is our ONLY affair!
Q: How far in advance should someone interested in using your facility book it?
A: Call and find out availability.
Q: What type of entertainment accommodations do you offer?
A: We offer a full array of entertainment options.
Q: How many events can you have going on in a single day or concurrently?
A: One event at a time
Q: What can you tell us about accepted payment methods, deposits, or payment plans?
A: Cash, check or charge card. We require a $1000.00 deposit to hold your date and we work out an individualized payment plan with each couple.
Q: Are there incentives for using your house vendors, and what can you tell us about your house vendors?
A: We only use quality vendors that have been with us for the last 19 years. Using our House Vendors provides you with incredible savings as well as taking the stress out of your Wedding Planning. With our All Inclusive Packages you say "I DO" and we do the rest!
Q: Do you offer tastings or host any showcases?
A: We can happily set up a food tasting for our interested customers. We do have bridal showcases. Please contact us for the next upcoming showcase.
Q: Can you tell us about some of the special events that your facility has held?
A: We have had the honor of doing "Bridezilla" & "Quiera Mi Boda" television shows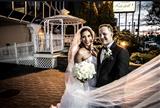 516-539-0766

516-539-0790

October, 2017
I have been to "Ariana Waterfall" multiple times, both as a performer and as an invitee and I must admit that the venue is incredibly beautiful, the food is great and the staff is highly professional and attentive. Looking for to my next visit.
2 out of 2 found this review helpful

November, 2011
I had my wedding at Ariana Waterfall this past July. I thought everything went smoothly and wonderful. When I initially came in, I met with Tony who I believe is one of the owners. He made me feel so at home and catered to my every need. I also really liked the fact that I would be the only bride in house on that day; because they only do one party at a time. He told me not to worry about a thing except my dress and he was right! He really took care of everything. I thought the idea of the "All inclusive" Packages were phenomenal; I really was able to have an amazing wedding within my budget. I chose the Cascade package for the reason that it had so much to offer. Don't get me wrong the other packages were amazing as well it was just my preference. When we met with all of the Vendors linked to the packages, they too welcomed us like family. Everyone was so nice and respectful I couldn't believe it! Than on the day of the wedding I was so nervous I didn't know what to do! Once the limo dropped us off at Ariana, Tony was right there with open arms reassuring me that everything would be perfect, and it was. From the Cocktail hour to the Main Reception, the food and service was outstanding. The wait staff was so helpful and kind, they really took good care of me and my husband. I absolutely recommend Ariana Waterfall to every bride. You cannot go wrong.
4 out of 4 found this review helpful
Stats
46,253 views since listed!
Share