Baiting Hollow Farm Vineyard: Enjoy the Rustic Charm of LI's East End
Baiting Hollow Farm Vineyard


Wine and horses beneath a crisp day or night sky are what you can enjoy at the Baiting Hollow Farm Vineyard, BHFV. Its picturesque view creates the perfect backdrop for weddings, outdoor gatherings, or just relaxing on a warm and sunny Sunday afternoon. Hand harvested grapes make the family owned Rubin vineyard and its wine unique and delicious.
On the vineyard, you and your age appropriate guests can take a stroll through the tasting house and taste some of the family made fine wine. During the season, the tasting house becomes home to Long Island's popular bands and in the off-season, there is a sound season to complete your wine tasting experience.
The Baiting Hollow has beauty, taste, and heart. The vineyard just recently added 3 horses, Prince, Mirage, and Angel to their other family of horses. All were rescued and now call the Baiting Hollow their home. Seven other horses call this lovely stretch of land home giving the vineyard life and beauty. BHFV also has two miniature ponies named Indy and Miley and they are a treat to animal lovers and nature lovers alike.
Those who enjoy their trip to the Baiting Room and wish to visit each year or when the mood strikes can take part in the vineyard's wine club. With this prestigious membership at home or on vacation you can order different types of wine, food snacks, receive wine pairing advice, be first to know of new releases and holiday promotions. At the vineyard, you have discounts on wine, food and snacks as well as a free wine tasting. In addition, you can take a free vineyard tour and seasonal hayride. Even property rentals and use of the party and conference rooms are also available at a discount.
Make BHFV your outdoor celebration location today.
Business Events

Outdoor Area

On Site Ceremony
For more details about amenities, please message the Venue.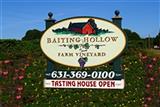 631-369-0100

631-208-0800
Stats
25,179 views since Feb, 2010
Share