B.B. King Blues Club & Grill: Unforgettable Events at a NY Icon
B.B. King Blues Club & Grill


BB King's breathtaking main space is classical in form and spirit: two-tiered, horseshoe-shaped seating (booths & tables) centered around a 30-foot stage presents up close and personal views of all performances. The 40-foot bar is a heaven for the reserved listener. The atmosphere is enhanced with two 8-foot big video screens on either side of the stage. Lucille's grill has a capacity of up to 300 people and the Music Room has a capacity of around 1000 people. This is a great place to plan a party or a family function.



BB King is broken up into three sections - the supper club style, the dance floor and the Lucille restaurant. The internal deco has a very stylish and jazzy look to it. Most of the floors are carpeted and the rooms have central air conditioning. The entire space of BB King is well designed and it's easy to find what you are looking for in this rather large venue. The bands who play here are some of the most popular, and every now and then you will come across a star performer popping in to give people a taste of some great music. Much of the music however is jazz so if you are a jazz fan then this is definitely the place you want to be.



BB King offers delicious cuisine and it's the kind of place where you can enjoy eating fried calamari and a good selection of BBQ dishes as well. The menu varies from one day to another so you might be in for a surprise when visiting. With services that are perfect for large affairs in B.B. King Blues Club or smaller gatherings in Lucille's Grill, both venues offer a variety of options ranging from hors d'oeuvres and cocktail receptions to sit down dinners, where menu items include classic salads, fresh grilled seafood and hearty steaks from the master chef. Use of the marquee on 42nd Street is included in all rentals of the Music Room.



BB King features excellent music, fun atmosphere and great food. Optimized with the latest visual equipment, these event spaces can accommodate a variety of scenarios - from corporate meetings, movie premiers and fundraisers to award shows, weddings and corporate functions.
Seating Capacity

1300

Simultaneous Events

2

Business Events

Outdoor Area

On Site Ceremony

Valet Parking

On-site party planner
For more details about amenities, please message the Venue.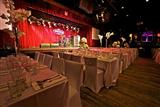 212-997-4511

212-997-4545
Stats
9,881 views since listed!
Share