Bohemian Hall & Beer Garden


What used to be a Czech and Slovak social club is now part of New York City history. The Bohemian Hall is home to the last original remaining outdoor Beer Garden in the entire city, and is run and operated by the Bohemian Citizens Benevolent Society - a fraternal organization dedicated to preserving this spectacular landmark. The Bohemian Hall & Beer Garden can provide catering services for any event with international or traditional central European cuisine, not only on-site but off-premise as well, and can design a custom menu to accommodate any taste.



The indoor bar and restaurant offer elegant settings and fun atmosphere. During recent renovation a lower level restaurant and second bar with original furniture imported from the Czech Republic were built. The hall has facilities for lectures, weddings, ballroom and disco dancing, music festivals and much more. The garden has a capacity of up to 500 people, and is perfect for larger affairs. For events of up to 250 guests consider the fully air conditioned main hall; it features a stage area, a spacious dance floor and beautiful hardwood floors. This room is often used for meetings, private parties and even rock concerts. Room#1 is perfect for smaller gatherings for up to 40 people. This is the most economical rental and catering can be provided as well, if needed. Organizations can book this space for their weekly or monthly meetings on a regular basis. Room#2 can hold up to 50 people, and features an all new bar with imported stools, tables and chairs.



The outdoor park/garden is available during the summer and can accommodate as many as 1000 people. There's an outdoor grill, an outside bar and a band shell, suitable for a large band. Ethnic events such as the Czech and Slovak Festival are held here each year during the Memorial Day weekend.
From 800 beer gardens in New York City only one is still standing – the Bohemian Hall & Beer garden. With its rich history, three separate catering halls and competitive rates the hall is the perfect venue for your wedding or any other special occasion.
Seating Capacity

1000

Simultaneous Events

3

Business Events

Outdoor Area

Bridal Room

On Site Ceremony

Valet Parking

Off Premise Catering Available

On-site party planner
For more details about amenities, please message the Venue.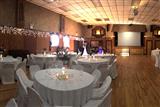 718-274-4925

718-728-9278
Stats
25,732 views since listed!
Appears In
Share