Brooklyn Museum


The Brooklyn Museum is located in Prospect Heights of Brooklyn, which is also the home of the Brooklyn Botanic Garden. With a variety of room types, sizes, and atmospheres, the Brooklyn Museum is the perfect place to arrange almost any type of get together from a corporate dinner to a large wedding reception with a cocktail hour. What's more is that the Brooklyn Museum's Special Events team is specifically trained to plan and deliver unique parties specifically designed with you in mind. The Museum also has an exclusive caterer that can also work with you on menus or any special requests.



Perhaps the most appealing thing about booking an event at the Brooklyn Museum is that you can choose from seven (yes, seven) different spaces, the Martha A. and Robert S. Rubin Pavilion and Lobby, the Iris and B. Gerald Cantor Auditorium, the Beaux-Arts Court, the Iris and B. Gerald Cantor Gallery, the Steinberg Family Sculpture Garden, the Glass Corridor, and the Museum Café. You could even choose to use a combination of these spaces for your special event, depending on your needs and itinerary.



The Pavilion and Lobby was redesigned in 2004, and offers a very modern and elegant feel. It features an enormous glass pavilion that looks out onto the public plaza.



The auditorium can be the perfect place for corporate meetings that require audio/visual capabilities or theatrical performances with its large seating capacity and expansive space (it boasts 4,700 square feet!).



The Beaux-Arts Court is the Brooklyn Museum's most popular space with it's stunning two story room, beautiful arches, brass chandelier, and historic glass-block floor. With its elegant and awe-inspiring atmosphere, the Beaux-Arts Court is an ideal space for wedding receptions, gala dinners, and/or cocktail receptions.



The Iris and B. Gerald Cantor Gallery is a smaller, yet beautiful rotunda and could be perfect for intimate cocktail receptions, small dinner parties, or small corporate gatherings.



The two-story outdoor sculpture garden feature artifacts dating back to the 1800's. It is open during the spring and summer months and is a great, charming space for small ceremonies, cocktail receptions or small dinners.



The Glass Corridor offers yet another smaller space for intimate dinners or cocktail receptions. It overlooks the Sculpture Garden, which makes it an ideal alternative to the Gardens during the colder months.



Finally, the Museum Café is also available for special events. It is a renovated space and is operated by the Museum's exclusive caterer. It's a good, laid back space for lunches, small dinners or corporate events.



In order to book an event at the Brooklyn Museum, you must be a Museum Member at the patron level or higher. So, if this space especially appeals to you, consider beginning your membership soon. Additionally, catering comes at an extra cost to the space rental fee.
Seating Capacity

700

On Site Ceremony Maximum Capacity

1000

On-Site Ceremony Location

Outdoor
For more details about amenities, please message the Venue.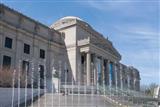 718-638-5000

718-399-8440
Stats
16,501 views since listed!
Appears In
Share