Capitale


Capitale was originally Bowery Saving Bank which was designed by the famous Stanford White and built later in 1893. Located at 130 Bowery, the Capital Ballroom measures 15,000 square ft and features an impressive 65 ft high ceiling. Capitale has a seated capacity of 500 for banquets and capacity of 1,500 for cocktail receptions. There are also private rooms on the upper level, each measuring 2000 square feet and with a seating capacity of over 60. This makes Capitale a great choice for both formal business functions, and private parties and weddings.



Capitale is wired with T1 internet connections and wireless internet access. Capitale's interior is beautifully designed with tall Corinthian columns, along with stylishly decorated and constructed coved ceilings. There is an art glass sky that makes Capitale's ballroom one of the best in New York City's function spaces. Capitale has an excellent sound system and provides live music DJs. The building from the outside has an early 1900s sort of look to it which gives you an idea of the grandeur of design you can expect on the inside.



Capitale offers on site catering. If you need specialized catering like Kosher, you can bring in an outside caterer. From the elegant atmosphere to the outstanding service offered, Capitale stands as a venue and event space of distinction and style for those seeking the very best.



Whether you are looking for great architecture or beautiful design, delicious cuisine or sophisticated atmosphere, Capitale has it all. If you choose Capitale as your event space you can be rest assured that everything will be perfect and not only meet but exceed all your expectations. Excellent food and services coupled with a beautiful interior and spacious rooms make this the function space a perfect choice for any affair.
Seating Capacity

650

Simultaneous Events

1

Outdoor Area

Bridal Room

On Site Ceremony

On-site party planner
For more details about amenities, please message the Venue.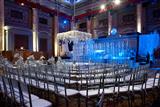 212-334-5500

212-219-8572
Stats
8,188 views since listed!
Appears In
Share