Sapphire Princess by Captain Lou's Cruises: Celebrate Your Special Day at Sea!
Sapphire Yacht Charters & Capt Lou Fleet


Captain Lou's & Sapphire Yacht Charters Party Cruises have long been known as "The Party Experts of the Sea," able to make every special occasion even more memorable. Whether you're having a wedding reception, throwing an office party, having a bar/bat mitzvah, setting up a Sweet 16, or have any other event that requires a large space, Captain Lou's Fleet & Sapphire Yacht Charters will provide the perfect spot to take your friends and family.



The Sapphire Princess the Newest Addition to the Fleet is a state of the art Dinner Cruise Yacht, with an updated interior recently renovated in 2015. The Sapphire Princess may just be by far the nicest yacht on Long Island. The Sapphire Princess is an All Inclusive Package Yacht that features 2 state of the art floors The first floor holds; the Dining room, ladies' room, men's room and kitchen, the 2nd floor holds; the Dance Floor, 4 Cocktail Tables, a Full Bar with Premium Liquor, Dance Floor and Space for your Entertainment. The Yacht also features 3 nice exterior Decks to explore the outside of the yacht and the wonderful views long island has to offer of the Waters of the South Shore of Long Island. Time your Cruise in the evening and you can get the perfect sunset along with your yacht party. This boat is the most elegant of the fleet and perfect for any event; weddings, sweet sixteens, engagement parties, milestone birthdays, communions, bat / bar mitzvahs, corporate events, anniversaries, graduations, retirements and more!



Three state of the art cruising yachts—the Sapphire Princess, Captain Lou VII and Starstream VIII — are the centerpiece of the line and are built to provide both luxury and comfort on the water. The Capt Lou VII & Starstream VIII, both vessels can house up to 150 passengers and feature two distinct levels. The first floor bears a fully enclosed, roomy cabin that is climate controlled so you can enjoy a night on the sea no matter the time of year and weather conditions, and also has restaurant-style booths with cushioned seating. A large buffet area and separate bar are also on the same level, and the upper deck features a hard-top roof with full side enclosures around a large dance floor complete with disco lighting. Both the Capt Lou VII & Starstream VIII are available for Boat Rentals Packages as well as All Inclusive Packages.



If you need assistance setting up your event, Captain Lou's professional and courteous staff will gladly help arrange DJs and Entertainment, food service (including buffets and banquets), limousine transportation, security, waitstaff and barstaff, flowers, balloons, invitations, photography/videography, and decorations. For those who want to enjoy one of the line's famous Moonlight Cruises, but don't need to charter an entire yacht to themselves, Captain Lou also holds many special events for individual and small groups to attend on their Public Dinner Cruises & Summer Sunset Cruises!
Seating Capacity

150

Simultaneous Events

1

Business Events

Bridal Room

On Site Ceremony

Outdoor Area Garden

Dance Floor

Wheelchair Accessable

Live Music Permitted

DJ Permitted

Air Conditioned

In-House Party Planner

Tables Chairs Included

Premium Liquor

On-site party planner
For more details about amenities, please message the Venue.
Q: What sort of different event packages do you offer?
A: All Inclusive packages abaord the Sapphire Princess All Inclusive and Boat Rental Packages available aboard the Capt Lou VII & Starstream VIII
Q: What is your minimum and maximum capacity for an event?
A: min 50 people on Weekends Afternoons min 75 people Saturday Evenings min 50 people Mon - Fri maximum capacity 134 people sapphire princess maximum capacity 149 people on Capt Lou VII & Starstream VIII
Q: What is it that makes your establishment and location perfect for an event?
A: We are located on the Famous Nautical Mile, in the Heart of Nassau County on the South Shore of Long Island. A popular place in the summer months. The boats offer beautiful scenic views of Long Island.
Q: How far in advance should someone interested in using your facility book it?
A: One Year - 6 months is recommended for a Saturday Date in the Summer Months.
Q: What type of entertainment accommodations do you offer?
A: We offer DJ Entertainment Packages with our DJ Company.
Q: How many events can you have going on in a single day or concurrently?
A: Each Boat is booked for One Event Only at a time. We may have 2 - 3 events booking in one day sometimes on each Vessel. ( total 3 boats in our fleet )
Q: What is your typical staff to guest ratio?
A: 1:15
Q: What can you tell us about accepted payment methods, deposits, or payment plans?
A: We accept all major Credit cards for Deposit and 1/2 remaining balance, final balance is due in cash or certified bank check only.
Q: Are there incentives for using your house vendors, and what can you tell us about your house vendors?
A: We have a range on House Vendors available that we reccomend
Q: Can you tell us about some of the special events that your facility has held?
A: We host all sorts of Events from Weddings, Sweet 16's, Communions, Anniversaries, Milestone Birthdays, Fundraisers and more !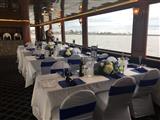 516-442-4614
Stats
32,766 views since listed!
Share