Del Rio Yachts
Del Rio Yachts serves the New York, New Jersey, and Connecticut areas. You and your guests will enjoy the scenic skylines along the famous New Jersey/New York water way along with the calm refreshing feeling of the Connecticut harbor. Del Rio Yachts offer luxurious private yachts that have a capacity of up to 1200 people for all types of occasions including nautical wedding cruises, corporate cruises, social event cruises, birthdays, Sweet Sixteens, Fourth of July cruises, graduations, proms, party cruises and Bar/Bat Mitzvahs.



Del Rio Yachts has an extensive selection of high end and budget conscious yachts - whether it's a classic wooden yacht or a high end luxurious modern yacht they have the vessel that's just right for you. In addition, they offer professional catering and planning services that make coordinating your event easy and worry-free. Choose from various entertainers and DJs who have performed at hundreds of events. With excellent floral arrangement services you don't need to think about hiring a florist to handle the floral arrangements for your event. You can also keep your guests entertained by ordering the casino and gambling package. A professional photography package is also available.



Del Rio Yachts offers professional event coordinator services so whether it's your wedding, party or a romantic cruise you are guaranteed a professionally arranged event. The event coordinators will handle everything from start to finish and ensure that every detail is taken care of. The premier yacht chartering company offers all kinds of dining options ranging from formal events to kids parties to casual buffets and everything in between.



Del Rio Yachts offers elegance and affordability that only a few other yacht companies measure up to. You get to experience fine dining and impeccable service along with coordinator services that aim to make planning and executing your event absolutely hassle free so whether you're celebrating your wedding anniversary or your kid's birthday you can be sure that there is a yacht that's just right for your occasion.
Seating Capacity

2 to 1200

Price Range (per plate)

From $100

Simultaneous Events

1

Business Events

Outdoor Area

Bridal Room

On Site Ceremony

On-site party planner
For more details about amenities, please message the Venue.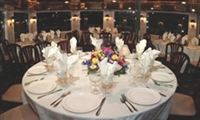 212-810-9747

888-464-4308
Stats
6,141 views since listed!
Appears In
Share