Frankies Spuntino


Treat your guests to a truly unique event by hosting it at Frankies Spuntino's "Stable". The Stable can accommodate intimate parties of 20-40 guests. In warmer weather, Frankies' garden, featuring herbs and beautiful flowers, can be incorporated to seat up to 75 guests.



Built in the 1900's, The Stable emits a feeling of the "old world" with its rustic brick décor. The romantically lit interior gives it a modern, yet warm feel, inviting guests to truly sit back and relax with a dedicated bar and private restroom at their disposal.



Known for its fresh, simple menu and moderately priced fine wines that seem to complement the meals perfectly, your guests will enjoy feeling spoiled at your event. Call Frankies' events/catering team today to begin planning your event today.
Off Premise Catering Available
For more details about amenities, please message the Venue.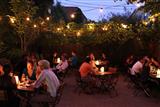 718-403-0033
Stats
12,156 views since listed!
Appears In
Share