Gargiulo's Restaurant


Established in 1907, Gargiulo's restaurant has a long tradition of providing excellent services and fine cuisine in an elegant and romantic setting. Located on Coney Island, this quintessential, century-old Italian restaurant is one of the most popular in the city. In the 1930s, 40s and 50s Gargiulo's was the place for ballroom dances, weddings, special occasions and family gatherings. A huge octopus hanged on the ceiling, indicative of the restaurant's specialty - seafood. The Gargiulo family owned and managed the facility up until 1965, when the Russo brothers moved to Coney Island and bought it. They kept the name and combined it with their famous Neapolitan hospitality and cuisine, turning this venue into the landmark it is today.



Gargiulo's caters to all types of events and social gatherings for up to 400 people. Their goal is to provide their guests with home-style cooking in a comfortable atmosphere. There are two party rooms for weddings or other special events – a cocktail room and an elegantly appointed grand ballroom with high ceilings and beautiful chandeliers. Along one of its walls the bright foyer features a large aquarium with live lobsters. Several wedding packages are available for you to select from, all of which include a minimum of a five-hour affair, uniformed wait staff and open bar, serving premium brand liquor, fine wines and bottled beer. Your guests will enjoy imported red and white wine on each table as well. Buffet menu is also available. Valet parking is provided.
Professional event coordinators will guide you throughout the planning process and make sure that every detail is taken care of. They'll help you with everything you need – from choosing music and entertainment to floral arrangements and décor.



Gargiulo's Restaurant prides itself on creating unique and memorable events in its luxurious and upscale rooms. Offering style, close personal attention and unsurpassed service, this facility is the perfect location for your once in a lifetime affair.
Seating Capacity

40 to 400

Price Range (per plate)

$110 to $160

Simultaneous Events

1

Outdoor Area

Bridal Room

Valet Parking

On-site party planner
For more details about amenities, please message the Venue.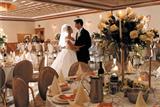 718-266-4891

718-714-5833
Stats
16,364 views since listed!
Appears In
Share