Grand Prospect Hall


We would like to extend our most gracious welcome to The Grand Prospect Hall, located for more than a century in Brooklyn's historic Park Slope. Here, you'll take a magical journey into a fairy tale era of utter opulence. Once, a wealthy and cosmopolitan Victorian society held court in this dazzling French Renaissance-style palace.

Experience 1890s glamour, from the moment your guests make their entrance into a soaring gilded and marble lobby that recalls all the splendor of Versailles. Come feast, dance and romance among ballrooms resplendent with a magnificent art and antiques collection, sparkling chandeliers, fabulous floral displays and rococo detailing.

Your event, whether for 80 or 2000, for business or pleasure, will have all the pomp and circumstance, all the lavish spectacle of bygone gentility. Here is where ordinary people come to feel extraordinary, and the famous come to feel like stars. Let us make your dreams come true.
Seating Capacity

x to 2000

Price Range (per plate)

$70 to $200

Business Events

Outdoor Area

On Site Ceremony

Kosher Menu

On-site party planner
For more details about amenities, please message the Venue.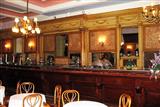 718-788-0777

January, 2015
I've been here for five functions. The first was my prom & had a positively outstanding experience. We felt like movie stars or in an an old movie about the Prohibition in such a beautiful setting. Since then, I've attended various affairs & each time is simply a wonderful time. The different ball rooms & lounges all have a unique feel, so you never feel like you're going to the same ol' venue. The staff is always nice & professional, too.
2 out of 2 found this review helpful
Stats
29,383 views since Mar, 2013
Appears In
Share