Marbella Restaurant
Marbella Restaurant & Catering


Superb Spanish, Mediterranean & Continental Cuisine for over 45 years



Over 40 years ago, owner of Marbella, Servando Cid, and his brother, Delfin, arrived in the USA from Galicia, Spain. They loved it here, where they had lots of family members. At the time, Servando's father-in-law owned the most famous Spanish restaurant in NYC, El Faro.



Catering for all occasions on or off premises for up to 250 guests



Two party rooms accommodating from 20 to 250 people are available for weddings, anniversaries, birthdays and showers, as well as the Costa Del Sol ballroom, for up to 250 people. Banquet packages starting at $28 per person are a good value: you get a large portion of food (up to three courses from the menu) and impeccable service.
Seating Capacity

20 to 250

Price Range (per plate)

$28 to $58

Simultaneous Events

2

# Of Reception Rooms Available

3

Business Events

Outdoor Area

Bridal Room

On Site Ceremony

Off Premise Catering Available

Overnight Guest Accomodations

Dance Floor

Wheelchair Accessable

Coat Check

Live Music Permitted

DJ Permitted

AV Equipment Available

Must Use In House Liquor

Air Conditioned

Kitchen On Premises

In-House Party Planner

Tables Chairs Included

Virtual Tour Available

Premium Liquor

On-site party planner
For more details about amenities, please message the Venue.
Q: What sort of different event packages do you offer?
A: We offer various packages, Brunches, Lunches, 3 Course Packages, Buffet Style, Sit Down style.
Q: What is your minimum and maximum capacity for an event?
A: Minimum 20 Maximum 250
Q: What is it that makes your establishment and location perfect for an event?
A: We have been a family owned business for 40+ years. Our venue is loved by our customers because it offers a cozy yet elegant ambiance. Our staff's ultimate goal is to exceed all expectations and make every event memorable.
Q: How far in advance should someone interested in using your facility book it?
A: We book events as long as a year in advance. We don't hold dates without a deposit.
Q: What type of entertainment accommodations do you offer?
A: Every party host is welcomed to bring a dj, or any live entertainment. Friday, Saturday & Sunday our live harpist plays in our main dining area. We also have Monthly Flamenco Dinner Shows.
Q: How many events can you have going on in a single day or concurrently?
A: 3
Q: What is your typical staff to guest ratio?
A: 1:20
Q: What can you tell us about accepted payment methods, deposits, or payment plans?
A: All major credit cards, cash, money orders or certified check.
Q: Are there incentives for using your house vendors, and what can you tell us about your house vendors?
A: N/A
Q: Do you offer tastings or host any showcases?
A: No, we do not offer tastings.
Q: Can you tell us about some of the special events that your facility has held?
A: We have held weddings, bridal and baby showers, birthdays, family reunions, social gatherings, company parties, company meetings.
Q: Is there anything else that you would like to tell us about your facility?
A: At Marbella Restaurant our goal is accommodate to all of our customers needs. Wether you are having a small or large party, we take care of all the small details with you to ensure your satisfactions. A banquet manager always is available 7 days a week from noon to 10 pm. To answer any questions.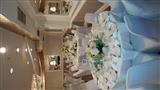 718-423-0100

718-423-0102
Stats
4,917 views since listed!
Appears In
Share