Pantry


Our family has been directly involved with running the Pantry since 1949. What began a "dining car" diner with seating for forty eventually grew into the restaurant that it is today, with seating for over 200 people! While our looks have changed and our menu has been redesigned, at heart the Pantry remains the same. Today we continue our proud tradition of being the place to go for family and friends to spend quality time together. Many beautiful moments have been spent within our walls - from bridal showers to anniversaries, first dates to engagements.

We believe in cooking from scratch with only the highest quality, natural ingredients. We believe that great meals require great ingredients which is why we only choose the best. For your convenience, there are outlets for each booth and under the bar in addition to WIFI throughout the building. Our rear dining room is available for hosting meetings, parties and other special events.

As always, we greatly appreciate your patronage and support as we continue serving you for years to come.
Seating Capacity

40 to 80

Business Events
For more details about amenities, please message the Venue.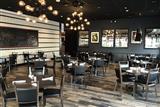 (516) 766-8848
Stats
1,998 views since listed!
Share